I'm delighted to be joined by Samantha Winston. She is with me today to share a little from her latest erotic adventure Time Tracking.
Over to you Samantha…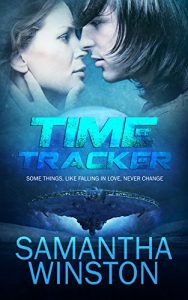 Hi Kay, and thank you for having me as a guest blogger! I'm really pleased to be here today to talk about my favourite thing : (well, favourite thing besides chocolate!) time-travel!
What would happen if a man from the past were brought to life in the present – a man frozen for centuries..? That's what happens when Kell's body is found in the Arctic, sold to the US Army, and reanimated in an ultra-secret base in Alaska (that everyone knows about).  In order to communicate, the army hires Allie, an expert in ancient languages. But the scientists don't want Kell as an anthropological case – they want to study his brain and body for cryogenics. Not good news for Kell, who is basically a prisoner about to be executed. Allie decides to save him, and they set out in the Arctic with nothing but some high-tech snowsuits (thank you, US Army corps) and Kell's knowledge of survival in the wilderness.
In the second part of the book, Bruce Steele, a tracker, wakes up in the far future. He's been reanimated on a space station, somewhere in the Hera Galaxy. He's alone – except for a very sexy, extremely pedantic android who is supposed to teach him all about modern society – except how can he concentrate with a raging hard-on? Apparently, when you've been frozen and thawed out – your extremities tingle…the scientists will be fascinated with that bit of info. Until then, Steele, a game tracker,  has to find a niche in an ultra-sophisticated technological world!
Time travel has always been my favourite subject – The Road to Alexander, published by Accent Press, is about a woman sent back to ancient Greece to interview Alexander the Great. So when I read about a man found in a glacier, and nearly intact, my mind started buzzing. Wouldn't it be incredible to have him wake up and tell us about his life in the past? But how could he communicate? And from there, I imagined the story of Kell and Allie. But because I grew fond of the man tracking them, Bruce Steele, I made a story just for him, where he's flung into the future and has to face the same sort of culture-shock Kell, the man from the Iron Age, did.

Excerpt:   
            Kell sat still, his eyes taking in her every move. As before, some things seemed familiar, while others made no sense. The brazier had a collapsible tube that fit into a hole in the tent. That made sense since smoke was a problem for tents. This brazier was made of white metal and stood on three sturdy legs. All that he had seen before. But this brazier had another, smaller tube that ran from the brazier to a small blue jug. The jug had a handle that turned, and a blue flame sprang from the top of the brazier so suddenly that Kell flinched.
            Allie turned and patted his arm. "I'm sorry. All this must seem so strange to you."
            He closed his eyes. Strange was not the word. Everything he had known had become twisted and bizarre. Familiar things had mutated into frightening machines. Even horses had turned into rumbling machines that belched stinking fog and had one bright eye. No, that was untrue. He knew what was machine and what was alive. His world had its share of machines, but none that ran by themselves. A shiver ran over his body. Blindly, he put out his hand toward the warmth of the brazier. Fire still gave warmth.
            His hand brushed against soft skin and he froze. Eyes still closed, he ran his fingertips over Allie's brow, over her cheeks and across her jaw. He drew a line with his fingers, following her neck to where her pulse beat strongly. She caught his hand in hers, holding it tightly. Pulling her to him, he pressed his lips to the soft skin on her temple. Her curly hair tickled his face, but he didn't open his eyes.
            The feel of a woman…that hadn't changed. The scent and taste of women hadn't changed. A deep sigh escaped him as warmth crept into his bones. Soft and sweet, and strong and brave. "Allie," he whispered. The tent leaned, buffeted by the wind, but the brazier warmed the air, and he opened his eyes to stare at the woman who had saved him from the prison.
            "What is it?" Her big brown eyes were questioning. Her lashes cast jagged shadows on her cheeks.
            "Thank you." He slipped his hand behind her neck and pulled her to him.
A little hesitantly, she put her arms around his shoulders. "You've got such broad shoulders," she said, a catch in her voice.
            He tugged at her chemise and lifted it over her head, then stopped, perplexed. He had seen brassieres like hers in Rome, but they'd been made of knitted wool. This one was made of silk that stretched like a supple skin. She took it off, a smile curving her lips. Then she stood and slipped off her pants.
            In the pale, blue light of the brazier, her skin took on the glow of polished marble. "You look like the statue of a nymph." He got to his knees and cupped her buttocks in his hands. Holding her tightly, he pressed his face to her sex, letting the smell and feel of her soothe his shattered nerves.
Bio
Samantha Winston is the pen name for author Jennifer Macaire. Sam writes stories to warm your heart and…no, not really – she writes steamy hot sex that will make your heart pound and sweat pour down your chest – whatever you do, don't read them at work! You've been warned – find a comfy chair, keep a cold drink handy, and warn your significant other that he's about to be ravished. Those are the kind of books Samantha writes!
Visit Sam's website, and pre-order now Time Tracker 
Coming April 11, 2017!
Many thanks Samantha! Good luck with your new book. Happy reading, 
Kay. xxx