As followers of this blog will know, I rarely do reviews for books these days.  And you are even less likely to find a sex toy review on this site – alas, time is just so short these days!
However, the lovely people at Bondage Bunnies were recently kind enough to send me an item to test for them. The sort of item that would feel very at home amongst Mrs Peters collection on the fifth floor of the Fables Hotel in The Perfect Submissive Trilogy!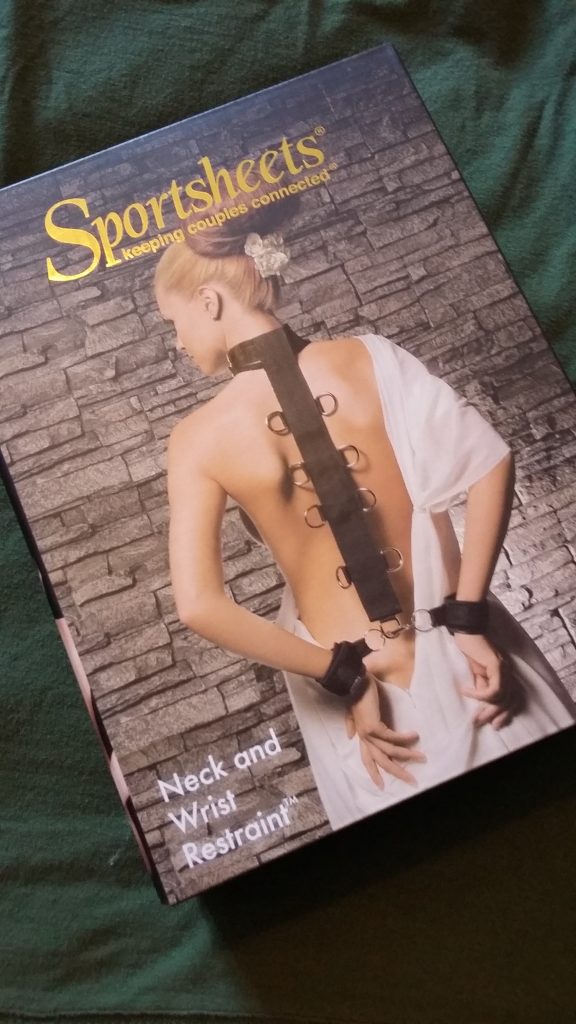 Quite simply, the Sportsheets Neck and Wrist Restraint is a must in the tool kit of any BDSM practitioner. It is the perfect next step for anyone who enjoys using handcuffs, but wants to 'up the game.'
Beautifully crafted to give numerous different options within one easy to use product, this item will hold your Sub so that he, or she, is restrained against themselves, or in conjunction to any object you see fit.
Attached to the body via a comfortable, easily adjustable, neck strap, the Neck and Wrist Restraint is made from a strong strip of heavy duty webbing (20 inches in length), with 9 D rings against its side; onto which you can clip anything you wish. (A lead with which to take your Sub for a walk  would be my personal first item of choice- but hey, I'm a control freak…)
With a pair of adjustable neoprene cuffs, that can be attached to any of the D-rings, as part of the package, you can bind your partner at the wrists or the ankles. As the cuffs are comfortable, and can fit most widths of wrists and ankles, then problems of the restraint being too big or small are non-existent. (And of course, you can always make an additional purchase, and add an extra pair of cuffs via the D rings, and secure both wrists and ankles at the same time)
Fixed at the neck and wrists using Velcro, the material is wonderfully soft. It should not leave abrasive marks against the skin, even after long term use..
This is not an easy restraint for anyone to escape from unaided (although in the interests of safety it is not impossible). But then, why would you want to escape when so much fun and sexual gratification awaits you?
If you enjoy testing your own sexual boundaries, or those of your partner- if you want to discover just how far you are both willing to push yourselves into the arena of submissive and dominator, then this is precisely the item you've been looking for.
I may just have to tell Mrs Peters and Miss Sarah about this restraint…just in case they haven't purchased it yet…
If you want to look at more restraints as well as this one- check out https://www.bondagebunnies.co.uk/collections/bondage-gear/restraints/
Happy experimenting,
Kay x