Today I'm delighted to be able to tease you with a tiny taster from the introducing paragraph of all seven of the sexy stories within the fourth- and last- Gratis Anthology. The perfect beach read- completely free as a download- Summer Fling is guaranteed to hit the spot…
Gratis : Summer Fling, First paragraphs
Bringing Angels to Life by Chloe Thurlow
A man in a navy blue suit with a pink handkerchief in the breast pocket strolled late one evening into Cavaliere, the restaurant in Knightsbridge where I was working as a waitress. He pointed at the window seat and studied me as I approached the table as if the menu were printed on the folds of my white blouse, the black skirt a pinch too tight, my legs in medium heels. He took the menu without opening it.
Isabelle's Submissive July by Emily Tilton
Dan Larchner had a plan. He knew his plan would probably never come to fruition, nor did he think circumstances would ever arise in which he might ethically put it into action, but he had it, and he brought it out of his mental filing cabinet from time to time. He looked his plan over in his mind's eye especially at his country club, when hours at the pool with his kids stretched out before him, and leafing through the plan's imaginary pages could divert him for at least a few minutes.
A Day in Brighton by Hedonist Six
All my belongings are neatly packed into cardboard boxes, but all I feel is chaos inside.
The Fashion Model Diplomat by KM Dylan
If you read the latest chapter of my memoirs that published in the previous Gratis Anthology—New Beginnings—you may recall that the mayor of Bordeaux, Michel Leval, took compromising, explicit pictures of me with a concealed camera at the after party that followed my wedding. His intention in circulating these lurid snapshots of me was to derail my husband Victor's chances of being elected president of France.
Dear Diary by M.J. Carey
Lynette's Diary, July 2015
Dear Diary.
Andrew Macmillan is coming to work at our place, in high-rise construction safety. I'm sure he'll remember me; being one of Kevin's mates. I always liked him. I first met him the year after Emma was born, after I gave up climbing to manage base camp. The last time I saw him was at Kevin's funeral. I think he was getting divorced. I'll make a point of meeting him for coffee.
Marsala Sweet by Molly Synthia
Her hair was blonde, the kind of blonde that you only usually saw in movies about beaches and frat boys and college parties.  It was straight, and it hung to just the top of the frilly white corset, which just covered her small but just about perfect breasts.  The corset matched the stockings, pure white and extending from mid-thigh down to the tall white heels.  The girl looked innocent, like a young bride on her wedding night, a bride who'd married right out of high school.  At least she would have looked innocent if she wore normal panties.  Instead, the little pink hooded clit above the soft pink slit was almost visible through a tiny strip of fabric so thin it was almost transparent. It made innocence more of an afterthought than a reality.  Her face belied the innocence as well.  Her lips were painted in a deep shade of red, and the dark eyeliner gave a sultry flare to her gaze that said a great many things that weren't innocent at all.
Generation Game by Secret Narrative
It's decaying. All decaying. I wonder in which of my decades I lost sight of my magnetism. Not in my forties. I spent the first week of my fourth decade in Amsterdam. Sex shows, peep shows, coffee shops and unlimited sex with my then partner. Addicted to each other and addicted to sex, we made the most of our mutual mojo in a long 69 of insatiable gobbling. When I turned fifty, he left me for a younger, blonder version of my forty-year-old self.
***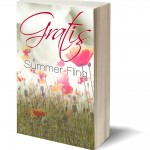 As always, this Gratis anthology is totally FREE!! You can find it at all these places-
***
Happy reading everyone,
Kay xx