To my delight I was recently approached by Carvaka to review a few of their products. How could a girl refuse?
I'm kicking off with a review of the Vibe-O-Matic– 10 Function Waterproof Bunny Rabbit Vibrator.
So- first things first. Yes, the name does sound like something out of a Looney Tunes cartoon – that however, is where the similarity with Bugs Bunny and crew end.
Secondly- yes, it is very very very pink. You will not lose this on a dark night!
So- here's the official blurb– A variation on the Honey Bunny 10 Function Rabbit Vibrator, the Vibe-O-Matic 10 Function Waterproof Bunny Rabbit Vibrator boasts the same delightful 10 vibration settings, bright colour and powerful vibrations except with a beautiful curved shaft allowing for some great g-spot stimulation. Also, let's not forget that cute little bunny rabbit with extra long ears to deliver those vibrations straight to your clitoris! Measuring 4.25 inches of insertable length and 3.25 inches in girth and being 100% waterproof and whisper quiet, why not try this rabbit out in the bath or shower! Available in pink, this rabbit will certainly brighten up your collection and escalate your pleasure!
 ***
Kay's review-
At only £12.99 this really is something of a bargain.
It feels lovely in the hands. Smooth and soft, despite being extremely sturdy. It feels good against the skin even when it isn't on.
The 10 different vibration settings are pretty fierce, making it a great tool if you want a mega quickie. If you want things to last a little longer, then go easy on the scale up button pressing. Even the lowest speed is powerful stuff.
There is as much pleasure to be found from teasing the shaft over and around the erogenous zones (all of them!) than from insertion.
The bunny ears extra long ears will be a blessing for some and a pain for others. For me they were simply too long and they got a bit irritating. However, we are all different shapes and sizes, and I have no problem in imaging that for others those cute ears would provide joy.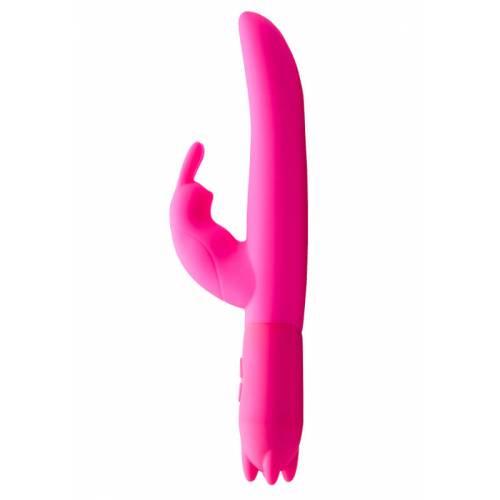 The length and girth of this bunny are spot on, and its waterproof function means that bath time is certainly less of a chore!
In summary – this is a great, reasonably priced, toy for a moment's stolen pleasure. It is also a wonderful toy to hand over to your partner. Its power as a teaser for pleasures yet to come when used as a couple – or more –bring things toy into its own.
You can check out the Vibe-O-Matic on the Carvaka web site. Don't miss the You Tube clip!- https://carvakasextoys.co.uk/vibe-o-matic-10-function-waterproof-bunny-rabbit-vibrator.html
I'll be back soon with another review!
Happy playing,
Kay xx