This month sees the first birthday of my ultra kinky psychological, word loving, coffee sipping, threesome filled, sexual behaviour research experimenting novella, Wednesday on Thursday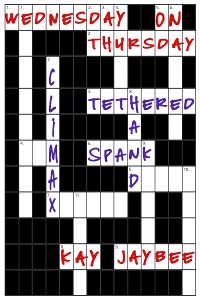 Blurb
There are rumours that the coffee guy has "a thing" about words.
Shrugging off her friend's concern about the way the man in the cafe stares at her every lunch hour, Wednesday can't see how his love of words could possibly be hazardous.
The fact is, Wednesday rather enjoys being the centre of an attractive man's undivided attention. His dark blue eyes alone have provided her with many delicious erotic fantasies, a welcome distraction from the pressures of the real world and a dull job.
It's totally harmless…
…until there's an accident with a cup of coffee.
After soaking Wednesday with a hot latte, the coffee guy's attention suddenly becomes far more enticing—and dangerous.
Drawn into a bizarre world of human behavioural research, where crosswords are used to initiate sexual experiments, Wednesday finds herself driven, not by a desire to further scientific research, but by the need to be rewarded for her hard work by the coffee guy's captivating research assistant.
A stunning redhead by the name of Thursday…
***
I had so much fun writing Wednesday's story. I had her adventure in my mind a long time before I had the chance to actually sit down and write it. Such has been the lovely feedback from my readers, that I intend to do a sequel- 'Thursday on Friday.' By the time I've finished I hope to have covered the whole week…
To help celebrate Wednesday's birthday, I'm sharing Chapter One…
Wednesday on Thursday
Chapter One
His hands moved so fast that Wednesday didn't register what was happening until her top was by her ankles. A large palm  came to her neck. She was pinned to the spot, and her bra was tugged down until it lodged beneath her breasts. Then a pair of masculine lips greeted her right nipple.
A delicious wave of climatic shock spun her head with images of what the man with the dark blue eyes might do once he tired of feasting on her chest. Of what it would be like to experience his agile tongue lapping at her pussy, over her butt, around her…
'Wednesday!'
Snapping out of her recurring fantasy, Wednesday Taylor blushed. 'Sorry, Carol. I was thinking.'
'Again?' Carol smiled. 'Come on, who is it that's captured your imagination and lured it away from the paradise of data input? Every time I look at you you're miles away.'
'No one. I was planning a holiday.'
'If you expect me to believe that, then you must think me blind as well as stupid.' Perching on the edge of Wednesday's desk, Carol shoved a pile of papers to one side. 'It's that guy from the café, isn't it?'
'Which guy?' Wednesday deliberately kept her eyes on her screen.
'Come off it, Nez. The one who can't take his eyes off you. Until you take a quick look at him, that is. Then he studies his espresso cup with an expression that suggests he's trying to work out its molecular structure.'
'The man to whom you are referring sits in a corner.' Wednesday flapped away the suggestion with a wave of her hand. 'He is automatically observing everyone because his seat oversees the entire cafe. I really was contemplating the advantages of Portugal over Spain.'
Carol rolled her eyes and sighed. 'If you say so, but be careful.'
'Use a high factor sun screen on the beach, you mean?'
Getting to her feet, Carol seemed to give up on her pursuit of gossip. 'Seriously, there are rumours about that bloke. He makes me uneasy.'
Winking playfully, Wednesday said, 'Rumours? Do tell.'
'I'm serious! Apparently he has this "thing" for words.'
Putting inverted commas around the word "thing" with her hands as she replied, Wednesday laughed, 'A "thing" for words. Now that is scary. If you'd said he had a "thing" for sharp blades, I'd have been worried.'
'I'm serious. It's weird. He doesn't just watch the women that appeal to him; he sort of visually dissects them. It's like he's hunting for something. Or someone.'
Waiting until Carol had returned to her work, Wednesday opened the top drawer of her desk and stared at the napkin she'd slipped in there an hour ago.
That lunchtime, as usual, Wednesday had been trying not to make it obvious that she was watching the coffee guy as he was watching her, when he'd surprised her by a break in his routine. He had got up to leave the cafe exactly two minutes earlier than usual.
As he passed her table en route to the exit he'd almost brushed her shoulder, but not quite. After dropping a napkin lightly onto her lap without uttering a word of explanation, he'd walked out of the door and disappeared into the afternoon.
Back in the safety of her office, regarding the folded serviette as if it were an unexploded bomb, Wednesday felt her palms prickle with perspiration. By comparison, her throat had gone Sahara dry. Even though he hadn't looked at her as he'd passed by, Wednesday had the strangest sensation that his inkwell eyes saw straight into her soul. That somehow the coffee guy knew what her late night dreams were about.
And who they featured.
Checking to make sure that Carol wasn't watching her, Wednesday unfolded the note and read the neat looped writing.
I would very much like to see you, Wednesday, on Thursday. I need to check you weren't burnt.  Regards.
Thursday? That's tomorrow. But when tomorrow? Did he mean he wanted to apologise for spilling the coffee? If so, why hadn't he said so before? The accident was days ago. And what did he mean by I need to check?
Wednesday pictured the coffee guy steering her into the nearest secluded area of town, trapping her between a wall and his six foot frame, ripping open her shirt, passing his eyes over her pale flesh to check for burn marks…
A sudden tightening of her chest made Wednesday drop the note and slam her desk drawer shut. If she carried on like this, not only would she fail to get anything done, but she'd be sat in damp panties for the rest of the workday.
Again…
***
Buy Links
Happy reading!
Kay x