Happy New Year!
Hello again- after my little look back at the non-writing part of my life yesterday, today I'm reflecting on my year in erotica.
As ever, so much seems to have happened!! 2014 began with the release of my anthology of Male domination and Female submission stories – Take Control.
Take Control is a collection of toe-curlingly sexy tales of bondage and female submission from the pen of best-selling writer Kay Jaybee. From the spankingly delicious Dinner With Tess to a Staged public sex fantasy, an unforgettable alfresco hosing in Deluged, a kinky scientific Experiment, and the realisation of a long-held threesome fantasy in The Necklace, Take Control offers five bite-sized stories that will satisfy any lover of quality erotica.
Buy Links-
http://www.amazon.com/dp/B00HYI8BHA
http://www.amazon.co.uk/dp/B00HYI8BHA
Not long after that, in February, myself and my fellow Brit Babes launched our very first (there will be more) anthology!! Totally free in e-format- you can enjoy some fabulous stories from a wide variety of erotica genres.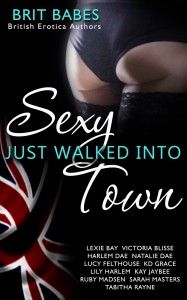 Sexy Just Walked Into Town is a collection of delicious erotic and romantic stories from the Brit Babes. These eight British authors have put together a book of tales to tease and tantalise you, each one a sample of the individual Babes' voices and styles. You'll find contemporary, BDSM, same-sex loving, ménage a trois, paranormal, sporty, military, Rubenesque and more. There's something to suit everyone here including a few Brit Babe collaborations.
Ranging from sweetly vanilla to so-hot-it-will-blow-your-mind, the Brit Babes aim to please in every literary fantasy department. Their heroes are strong, determined and soul-achingly divine and their heroines sassy, sexy and not afraid to grab what they want. Passion and pleasure is the name of the game, romance and raunch a top priority and it all comes with a delightful sprinkle of kink.
With a whole host of awards, best-sellers and accolades between them, the Babes just know you'll find something in this anthology that will keep you turning the pages and squirming on your seat. Then, if you like what you read here, check out the individual authors' websites to investigate their collection of published works. Also visit the Brit Babes' home on the web which acts as a library for the hundreds of books published by them. Tell your friends, spread the word, because one thing you can be sure of, is when the Brit Babes arrive, sexy has just walked into town!
Buy Links (or should that be Free Links??)
http://www.amazon.com/Sexy-Just-Walked-Into-Town-ebook/dp/B00IDAHK16/ref=sr_1_1?s=digital-text&ie=UTF8&qid=1405414552&sr=1-1&keywords=sexy+just+walked+into+town
http://www.amazon.co.uk/Sexy-Just-Walked-Into-Town-ebook/dp/B00IDAHK16/ref=sr_1_1?s=digital-text&ie=UTF8&qid=1405414459&sr=1-1&keywords=sexy+just+walked+into+town
The majority of the first part of 2014 saw me writing my last major adventure for Miss Jess Sanders- and in May, I was delighted to announce the publication of the third instalment of The Perfect Submissive Trilogy– Knowing Her Place.
Blurb
With her head full of unanswered questions, exhausted from her fairytale experience at the hands of Dr Ewen, Lady Tia, and the staff of the adult entertainment service provided by The Retreat, Jess Sanders is desperate to leave Scotland, and return to her usual submissive position at the exclusive Fables Hotel in Oxford.
Having been thwarted in his plans to keep Jess at The Retreat permanently, its owner, David Proctor, isn't willing to let Jess go back to her dominatrix, Miss Sarah, and her employer, Mrs Peters, without sending her on one final mission. Only if she succeeds in her task will Proctor remove the collar of servitude he has locked around Jess's neck.
With a list of five unknown addresses in her hand, Jess Sanders is placed in a car and driven from The Retreat towards England. With no idea what or who awaits her at the first stop, all Jess can hope for is that her journey will eventually take her back to where she belongs.
To the Fables Hotel, where Jess Sanders truly knows her place.
Buy Links
http://www.amazon.co.uk/Knowing-Place-Perfect-Submissive-Trilogy-ebook/dp/B00KI0I8XS/ref=sr_1_1?ie=UTF8&qid=1400826557&sr=8-1&keywords=knowing+her+place+kay+jaybee
http://www.amazon.com/Knowing-Place-Perfect-Submissive-Trilogy-ebook/dp/B00KI0I8XS/ref=sr_1_1?ie=UTF8&qid=1400826765&sr=8-1&keywords=knowing+her+place+kay+jaybee
It was a very strange sensation saying goodbye to Miss Jess Sanders this year – I'm really going to miss her!!
Late Spring also saw my very first Smut event- Smut by the Sea– Scarborough!! As you can imagine, I had a fantastic time- especially as I got to meet many of the Brit Babes street team members! Not only that, but I was given the job of being 'timer' during the reading slam- a task I employed with relish!! Never let it be said I can't wield a paddle…
Hot on the heels of this release came the annual ETO Show and Awards- and to be delight and utter amazement, I received a nomination for Best Erotica Writer!!! What an honour!!! An honour that was tripled by being up against 2 of my fellow Brit Babes- Lucy Felthouse and Kd Grace!! When Kd won I am not sure who was prouder- me or her husband!!! Then- when our main publisher, Xcite Books, won Best Erotica Publisher- and we had to collect the award on their behalf, I thought I'd pop with pride.
My ETO experience was made ven better by being joined by fellow Brit Babes Tabitha Rayne, Victoria Blisse, and Lexie Bay- I'll never forget the moment when we all tasted Lube Ice cream!
September 2014 was a landmark date for me- for that saw my 10th Anniversary of writing erotica!! So much has changed since I began to write- and you can read all my thoughts on the subject here.
I was touched to be asked to write about the changes to the erotica writing business I've seen over the past decade by the ETO- and was flattered by all the kind messages about my writing that came from my loyal readers- I appreciate each and every one- thank you.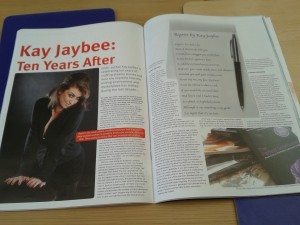 Unusually for me, I didn't write very much erotica for the remainder of 2014- the 'other me' Jenny Kane, took up a great deal of my time with her cosier romantic fiction- however, I never stop writing short stories, and I was thrilled to be asked to contribute to a number of anthologies, including Sapphic Smut, The Sexy Librarian's Big Book of Erotica, and The Mammoth Book of Erotic Romance and Domination.
Which brings us right up to date- and looking ahead to 2015.
Any day now I'll be announcing the release of a new series of mini stories…
…and then in February- for one more story only- Miss Jess Sanders will be facing her last challenge at the Fables Hotel. My perfect submissive will back for a bonus story to celebrate the release of The Perfect Submissive Trilogy in boxset format!!
After that…well you'll find out…
Happy New Year to you all- and thank you for all your support.
Kay xxxxx