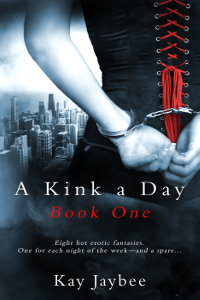 Eight hot erotic fantasies- one for each night of the week- and a spare…
Blurb:
From the spank of a belt, to the unorthodox use of a dictionary; the bizarre obsession of an Egyptologist, to the afterhours indulgences of the staff recreating life in a strictly run Victorian manor, A Kink a Day, provides a bite-sized moment of lust-fuelled distraction for each day of the week- with an additional erotic fantasy to enhance your Saturday morning lie-in.
A Kink A Day contains stories previously published in Quick Kink One.
The stories contained in A Kink a Day be read via the Radish story app. It will be released as a Kindle download in the near future.