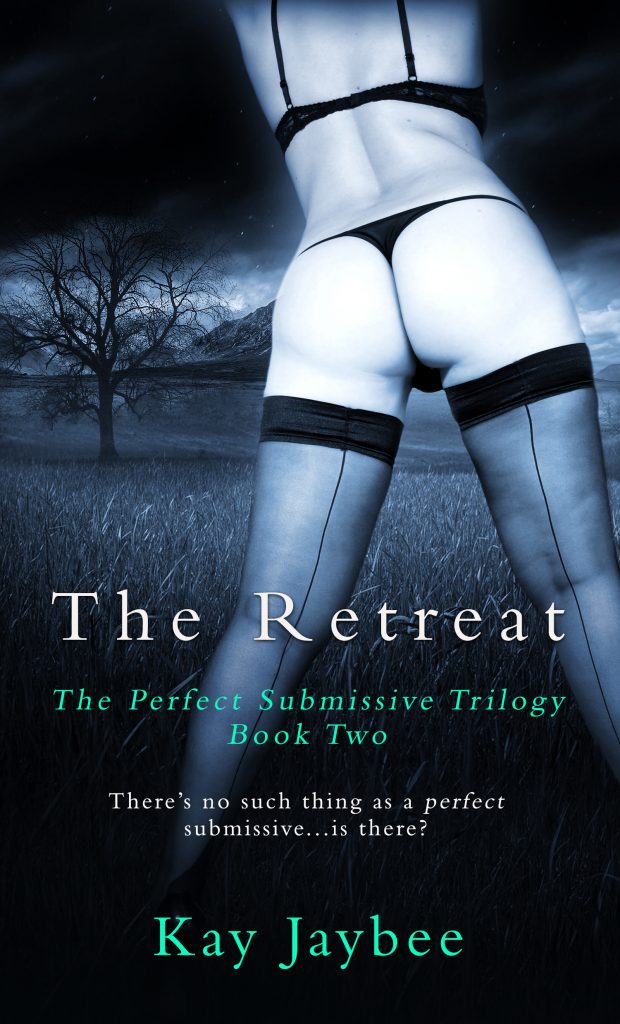 Blurb:
Just as Jess Sanders is adjusting to her new life as the submissive in residence on the fifth floor of The Fables Hotel, her employer, Mrs Peters, makes a startling announcement. She has agreed to loan Jess, and her dominatrix Miss Sarah, to one of their most demanding clients; Mr David Proctor.
Whisked away by the mysterious Kane to The Retreat, a house hidden in a remote part of Scotland, Jess and Miss Sarah find themselves teaching a new submissive how to meet Proctor's exacting rules.
As Jess comes to terms with the techniques of The Retreat's overpowering dominatrix, Lady Tia, she discovers that Proctor's motives may not be all they seem. Just who or what is Fairtasia? And why does Jess feel like she's walked into a warped fairy tale?
In order to get back to the fifth floor, Jess is going to have to be far more than just a perfect submissive…
Available from:
Amazon UK
Amazon US
Amazon AU
Amazon CA
Barnes & Noble
Apple Books UK
Apple Books US
Kobo
Smashwords
Praise for The Retreat (2nd edition)
"…Omg. This book was awesome. Loved every page. Author kept my interest from the first page to the last. Characters were well written and the plot was exciting. I definitely recommend this book!!" Amazon.com
"This book is very entertaining and the link with fairytale is unique…I also enjoy the tug of war between the two hotels. I like the sex scenes too." Goodreads
Praise for The Retreat (1st edition)
"…We're all familiar with Fairytales . . . whether from distant memories of wonder and enchantment from our own childhood, or attempting to stimulate imagination and excitement in reading to our own children at bedtime.
But never . . . ever . . . could Hans Christian or the Grim Brothers have imagined such tales as those told between the covers of "The Retreat"…I've previously described authoress Kay Jaybee's first instalment in her trilogy of submission and dominance, "The Perfect Submissive", as "the most arousing and inspiring" book I've ever read. So I'd awaited this second instalment with huge anticipation . . . and expectation.
I'd wondered what the future held for Jess and what fearsome, and exciting, tasks she'd be asked to perform. Surely the imagination of her mistress had already reached the limit of all bounds of reasonable possibility?
But Kay Jaybee is clearly a woman apart . . . and the new scenarios and surroundings of a mysterious castle in the Scottish highlands seems the perfect setting to unleash yet more of her wild and wicked imagination.
My heroine Jess finds herself caught in a whirlwind of new masters and new submissive partners . . . and set a series of new tasks and new challenges at every twist and turn of the castles cold and unwelcoming corridors.
Just as with "The Perfect Submissive" each new chapter of "The Retreat" had me tingling with wonder and excitement (rather than enchantment in this instance) at Ms Jaybee's extremely vivid imagination.
The tension builds throughout towards Fairtasias climatic finale-ball . . . quite unlike those bedtime stories of times long gone by!!!
Without wishing to divulge too much of the plot and positions required, and enacted here, there are some arousingly descriptive moments which had my pulse racing to the sort of dangerous levels I've not experienced since reading . . . and re-reading . . . the pages of "TPS".
But, more than just simple lust and eroticism, Kay Jaybee's story has that unusual skill of engaging her characters somehow into ones pysche . . . I wanted to share each new challenge with Jess, worried for her strength of will, worried just how that final chapter would unravel. A Fairytale end to the ball . . . or will the wicked Witchtress prevail???
And that, quite simply, is something that I don't often find in my other reading, not just in erotica (and you know how much I enjoy reading naughty stories! LOL!!!), but in "normal" books . . . or normal media.
I remember thinking as I shuddered through the final pages of "TPS" that someone, somewhere, somehow should make it into a movie (and that I wanted to be in it! LOL!!!)
"The Retreat" may well be a more difficult movie to make (I still want a part though Kay!!!), but I urge you to read the real words . . . as they were first written . . . before this book, and "TPS", and the now eagerly awaited final "Knowing Her Place" find their way to Holly(or Pine)Wood.
And, whilst you are at it, and in the mood . . . as I'm confident you surely will find yourself . . . visit Kay Jaybee online to marvel at and devour some of the most arousing erotica I think you will ever find!!!" – Modesty Ablaze
****
"…This was an awesome follow up to The Perfect Submissive! Kay does an outstanding job
of leaving you wanting more. I really don't know how she comes up with her stories but lets hope she never stops…" Amazon Review
*****
"…Twists and turns around every corner…. I have waited along time to finally have time to finish The Retreat and I totally love it …. This makes you look at fairy tales in a new light . kept me on the edge of my seat from start to finish, just cant wait for pt3 to find out what happens next." Goodreads
*****
"A dark and delicious follow up book to The Perfect Submissive. This time our heroine Jess, along with Miss Sarah, faces yet more tasks set by the nasty David Proctor that we met briefly in book one but nothing is as it seems. The story twists and turns and the steamy sex scenes are enough to send your pulse racing a million times a minute! I loved the twisted take on the fairy tales and can't wait to read the final book in this outstanding trilogy." Amazon
A joint review for The Perfect Submissive and The Retreat–
"…The characters are fascinating with a depth that you don't get often.  They each have various facets to their personalities that make them unique and realistic.  They are compelling and one moment you will love them and the next moment hate the same character.  This is true throughout both books as we are introduced to new characters in The Retreat while keeping a continuation with a couple of characters from The Perfect Submissive… Kay Jaybee does a great job of involving us in the plight of various characters  especially the  main character, Jess…"