Scandalously Yours…
Blurb
Through the ages, where there has been society there have always been norms and, conversely, scandals when love gets in the way of propriety.
From the ancient Celts to medieval Cornwall, from Regency and Victorian England to the American west after the War Between the States, eight stories by multi-published, bestselling authors explore the triumphs of love between a man and a woman—even scandalous love—over what's considered "proper" in their time.
Wilder's Thief, by USA Today bestseller, Josie Jax
Robbing a bank wasn't what reformed pickpocket Rachel Conroy had in mind. Yet when the lyin' banker entangles her in one helluva financial fix, she finds herself in the bank of Diamond Bluff, Missouri, disguised as a lad and holding a gun on an unfamiliar teller. But the handsome man is so distracting she can't keep her sex-addled brain on the task at hand—until he threatens to turn her over to the authorities to be hanged if she doesn't return the money.
When village newcomer and winery owner Dierck Wilder mans his uncle's small-town bank for a few fateful moments, he's suddenly staring down the barrel of a revolver. His life veers off on a tumultuous path after he pursues the robber and uncovers a sexy diamond in the rough. Now to unearth the truth and tame Wilder's bandit…
Aphrodite's Necklace, by Anh Leod
Exiled by her husband to staid, Victorian England, the goddess Aphrodite is determined to spice up life for a mortal couple by giving them a magic necklace that opens their minds and hearts to passion. Can she teach innocents to delight in sensual love?
Emily Rogers is in the marriage mart, but once the necklace is in her hands, she enlists William Coxe, her family butler, to help find its owner. As Aphrodite intended when she dropped the priceless piece at a ball held in Emily's home, desire overwhelms Emily—and also William, whom Emily's parents would never countenance her marrying.
Good sense prevails when the two return the necklace to the goddess, but by this time love has caught the lovers in what seems an impossible situation. Can improper love survive the loss of Aphrodite's necklace? Only with the goddess's help can they find a way toward lasting happiness.
***
Over to Kate Rothwell to tell us about her own story research…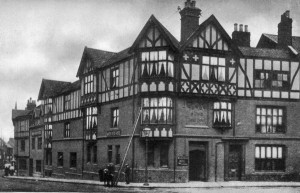 To get an accurate feel of the world I write about—or to avoid actual writing–I do research. For my story in this collection, Mademoiselle Makes a Match, I researched English country inns.
Though my story takes place in the mid-eighteen hundreds, my favorite source of information is a book written in 1904, Among English Inns by Josephine Tozier. https://archive.org/details/amongenginns00toziiala An American lady and her three companions (Tozier calls her friends the Matron, the Invalid and Peggy) tour the English countryside and there are some fabulous descriptions of inns.
When they visited Selborne, the ladies were excited because they were visiting the village of Gilbert White an English naturalist (18 July 1720 – 26 June 1793). Tozier mentions, almost in passing, that the village was also the home of Jane Austen.
The four ladies frequently take up all the available bedrooms in the inns they visit. Many country inns had few rooms to offer for the night and most of the income came from selling drinks to the locals. The inns range from ancient old single family homes to elaborate three-story structures that were built to be inns.
Travel at the turn of the 20th century sounds far more civilized. I suppose the very wealthy could arrange something like this, but the four ladies are ordinary travelers and this was a description of their journey by rail:
"We order two luncheon baskets to be handed in at Salisbury… The traveller orders lunch from the guard, the guard telegraphs ahead, and at the station designated in comes a boy with a flat basket, for which you give him three shillings and a couple of pennies as a tip. Inside the basket is a bottle of wine, or cider, or beer, as the case may be, half a cold chicken, some slices of ham, bread, butter, cheese, fresh crisp lettuce, all daintily put together, with plates, a glass, and Japanese napkins."
Tozier is a witty observer and the book is charming. Writing historicals means doing research. When it comes to reads like this, this can be my favorite part of the job.
About Kate Rothwell:
Kate Rothwell is an award-winning author who also publishes under the name Summer Devon. She writes romances of all sorts, including some historical m/m books with Bonnie Dee. You can find her at http://katerothwell.com http://summerdevon.com and on facebook at https://www.facebook.com/S.DevonAuthor/?fref=ts
Buy links:
Amazon.com— http://amzn.to/1QG7y2d
Amazon UK– http://amzn.to/1POPAdZ
All Romance Ebooks– http://bit.ly/1Vk1rED
Kobo– https://store.kobobooks.com/en-us/ebook/scandalously-yours-2-166.html
Smashwords– https://www.smashwords.com/books/view/612550?ref=cw1985
Books will also be available at barnesandnoble.com and iTunes (Apple), but buy links are not yet available for them.
*****
 Don't miss out on the blog tour – GIVEAWAY!
http://www.rafflecopter.com/rafl/display/8b9ec5be153/?
Make sure to follow the whole tour—the more posts you visit throughout, the more chances you'll get to enter the giveaway. The tour dates are here: http://www.writermarketing.co.uk/prpromotion/blog-tours/currently-on-tour/scandalously-yours/
 ***
Good luck with the rest of your tour!
Happy reading,
Kay x