What better time of year to have friends visit! Today, I'm delighted to welcome fellow Brit Babes, Lily Harlem over to my place. Why not join us in a sip of mulled wine, and take a read…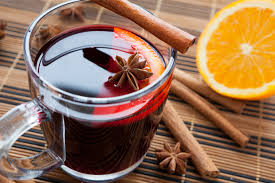 Thank you for inviting me to your blog at this festive time of year, Kay. It's always a joy to share a glass of mulled wine and a mince pie with you.
I've brought with me my novel Cold Nights, Hot Bodies which is perfect to snuggle up with in front of the fire and forget all the madness of Christmas. I adored writing this story, the heroine is a real book worm much like me. She loves nothing more than to immerse herself in steamy romantic stories and fantasize about the heroes who sweep the maidens off their feet.
We all have book boyfriends, right? Well Ashley has many and knows all of their sexual desires off by heart. But what's she's lacking is a real life boyfriend, and it looks like it's never going to happen, until, that is, her friend replaces her dowdy outfit for the Christmas staff party, for a super-sexy red dress – oh wow, what a friend!
Luckily, much as Ashley is terrified, she does wear the dress, and then, to her delight catches the attention of hunky Shane Galloway, a man who is prepared to tap into her fantasies and merge them with his own. Of course Ashley's fantasies, despite her being sexually inexperienced, are imaginative and varied, thanks to her being so widely read. I hope you'll check out her story and go with Shane and Ashley not just to the beautiful snowy Cotswolds, but also to a place where anything can happen and role play has no limits.
Reader Reviews
"This was a great book that really showed two characters that had amazing chemistry and how the author was able to tweak them in just a way as to make the story different from all the others on the market today."
 "I love this couple and the HEA was brilliant. This is the perfect story to keep you warm at night."
 "This book does show that it pays to let your other half read what is on the e-reader."
Back Cover Information
All my life I've been the quiet bookworm, the office mouse. It hasn't bothered me. Immersing myself in erotic novels has kept me wriggling on the edge of my seat at work and firmly entrenched in my own fantasy world at night. 
Though one thing is bothering me—my damn virginity. If only I could find a sexy bedroom expert to introduce me to the delights of having a lover. Someone handsome and charming, who can rival the hunky alpha males in my books. I have a very vivid, very well-fed imagination—he'll have to keep up. 
Then, one bitterly cold night, thanks to a devious, conniving, so-called friend, the perfect opportunity to rid myself of this pesky virginity problem comes along. Before I know it, the heroes in my novels have come alive in the person of Shane Galloway, who's pleasuring me with every trick in the book and wheedling into my heart in the hottest ways possible.
Please note Cold Nights, Hot Bodies was previously published with different cover art.
Excerpt
"Ladies and gentlemen," a loud voice boomed from the doorway right behind us. "Would you all please take your seats for dinner?"
Gratefully I extracted my fingers from Ray's and turned. The head waiter was gesturing toward the restaurant opposite the bar.
"Come on," Derek said to me. "Let's go find some seats."
"I want you to sit at my table," Ray said to Derek. "I need to pick your brains about a few things before you-know-what." He winked exaggeratedly.
Derek nodded. "Sure thing," he said, stepping away from me with an apologetic smile.
The ripple of nerves in my chest turned into a wave of panic. If Derek was sitting next to Ray then who would I sit next to? I moved with the crowd into the restaurant and glanced at Rachel—she was nice, perhaps I could sit with her. But she was laughing and linking arms with Jeremy, the team leader from Cheltenham branch. My eyes searched the room for someone else familiar. Chairs were being scraped on the floor and the hum of conversation increased as people settled themselves at the dozen or so large, round tables.
I gulped back the last of my champagne. No one else seemed to have a moment's hesitation about where to sit. For them it was like putting on a pair of slippers or making a cup of tea. Effortless.
For me the urge to run, to turn and flee, was like a primitive instinct. Why the hell was I here? I should just go to my room, read about Tobias' kinky wedding night. Find out what it would be like to be tied to the bridge of a yacht and have a sexy millionaire squeeze orgasm after orgasm from me.
I fiddled with the heart pendant resting just below the hollow of my neck. Run or stay? Run or stay? There were hardly any unclaimed seats left. My gaze scanned the room, flicking over the large plumes of Christmas flowers standing centrally on each table and the tinsel strung around the picture rails.
Suddenly I spotted a free seat at Rachel's table, two places away from her. I remembered all my heroines. None of them would turn and run from a room of people when there was a free seat.
Bracing myself, I tilted my chin and stepped toward the table, praying that no one would beat me to it. My hips rolled as I walked and the warmth of the room settled on the exposed upper mounds of my breasts. As I approached the table, the person who would be sitting between Rachel and me turned and looked straight at me.
My heart stuttered. It was Shane Galloway. The delectable Shane Galloway who'd won the overall most productive salesman of the year three years in a row. I'd admired him from afar last year and watched him dance after the meal with Ray's wife Rose. I gulped. I was offering myself up for a mealtime conversation with a guy so out of my league he might as well live on Mars.
Shane was gorgeous in a rock-star, devil-may-care kind of way. He had jet-black hair that just touched the top of his white collar, the skin on his face was pale and his eyebrows dark and heavy. There was a sprinkle of stubble on his chin and above his top lip. Already he'd loosened his navy-blue tie and undone the first button of his shirt.
I kept putting one foot in front of the other. Felt and saw his gaze slide down my body. His attention hovered for a moment on my rolling hips before rising to my face once more. Then he was standing, standing and reaching for the chair I'd planned on claiming.
Oh god. It was already taken?
He'd intended on sitting next to someone else? He didn't want me to sit there. He was going to move it. I was going to have to turn away.
I hesitated. Looked into his dark eyes and held my breath.
"Here," he said in a smooth voice, tilting the left side of his mouth into a smile. "Allow me."
If I'd thought the rush of nerves earlier was intense then this was like a tsunami. Shane Galloway actually wanted to sit next to me? Wow, the power of a red dress, fishnet stockings and killer heels.
I stretched my glossy lips into a matching smile and prayed I didn't look as shaky as I felt. "Thanks," I said, stepping up to the table.
He touched the chair against the back of my knees. I sat, knotted my fingers in my lap and crossed my ankles.
"Hi, Ashley," Rachel said, leaning forward as Shane sat his tall frame back down. "You look…er…really well." Her blue eyes were wide behind her spectacles as she absorbed my new look. "Have you been on holiday or something?"
"Er, no, no holiday."
Everyone at the table turned to me. Even a young, pimpled guy opposite was peering around the tall floral centerpiece to stare.
"How are you, Rachel?" I asked, trying to keep my voice casual.
"Fabulous, thanks and this is great, isn't it? They always do such a lovely job at The Fenchurch."
I nodded and reached for the slim glass of water a waiter set before me.
"Have you two met before?" Rachel asked, flicking her gaze between Shane and me.
"No," Shane answered, smiling my way. "I don't believe I've had the pleasure." His lips looked soft and sensual, his top left tooth crooked by a millimeter over the right one and his eyes sparkled as though full of sin. Dark, naughty, expert sin. The sort of sin bad-boy pirates and dukes intent on satisfaction had in their eyes.
"Ashley," I said, unknotting my fingers and holding out my hand. "Ashley Jones. I'm from the Chelsea branch."
He took my hand. Curled big, warm fingers around mine and squeezed gently. "Shane Galloway, Huddersfield branch. It's lovely to meet you, Ashley."
A snake of sensation washed up my arm, ran across my shoulder and settled in my chest. I pulled in a breath and was treated to a lungful of his light aftershave. He tipped his head slightly as he carried on staring into my eyes. He pulled in a deep breath too.
"I, er, it's a pleasure to meet you as well." I extracted my hand and dragged my gaze from his. If I wasn't careful I could almost fool myself into thinking he was attracted to me. I wasn't an expert in this sort of thing but in my books, lingering handshakes, prolonged eye contact and inhaling perfume were all connected to human attraction.
Cold Nights, Hot Bodies is available from
Read for FREE on Kindle Unlimited.
Find out more about Lily Harlem on her website and sign up to her newsletter to get a FREE ebook.
Thanks Lily!!
Happy reading everyone,
Kay x