It's release blitz time – check this out from Lily Harlem!
Back Cover Information
On this weekend, Polly and Lucan work the kinks into their relationship.
When Polly is caught in a compromising position with a toy and a hardcore video, she doesn't think her husband will ever go near her again. She feels twisted, nothing like the sweet wife he married. Little does she know, she's awakened a monster by prodding Lucan's sexual beast and making him sit up and take notice.
Finally.
But what about Lucan's needs? He's been so busy at work that things have gotten out of his grip to the point he can't even remember his fantasies.
During a weekend of passion and turmoil, heat and pleasure, they vow to never drift apart again. Neither can imagine just how far they'll go to please the other, or how well matched their particular variety of kinks are.
BUY LINK – http://www.lilyharlem.com/x-rated.html
Here's an excerpt taken from near the beginning of the book…
Her mouth dried. She wondered if she'd be sick. It was too late to hide what she'd been doing. It was obvious. Legs akimbo, vibrator deep in her pussy and her skin laced with sweat, there was no denying she'd been having a whole lot of fun on her own.
But he'd never, ever seen her like this. Hell, he'd never even asked her if she masturbated, or encouraged her to touch herself when they'd been together under the duvet.
"Maybe I…I should leave you to…" he said, color running from his face. "Finish doing what you're…doing."
Polly felt her eyes prickle. Shame, mortification and humiliation swamped her. Damn it, why hadn't she put the chain on the front door? Why was he home so early?
She grabbed for a pillow and pressed it to her torso, covering her pussy and the vibrator and her breasts. She shut her eyes. "Go. Get out."
A tear squeezed from her left eye and trickled down her cheek. How would she ever recover from this? Her husband catching her masturbating.
Now he'd know that he didn't hit the spot for her. That she was unfulfilled.
She held in a sob and sneaked her hand between her legs. She pulled the vibrator out with a soft slide, her orgasm now a distant memory. She clenched her fists, tugging the pillow closer as she drew her legs together, pushing the laptop aside. A bitter taste filled her mouth as images of divorce courts, a new small flat just for herself, a bitter custody battle over Tilly, filled her mind.
She buried her face in the pillow, hoping that Lucan would just leave the house. Go away for the weekend, come back when she'd recovered.
Who was she kidding? A weekend? She'd never recover from the shame of this moment, not in a million years.
Maybe he'd just leave now, forever. And that would be it.
A fresh stream of tears attacked her and she let them soak into the pillow. She didn't want him to leave. She loved Lucan. Always had and always would. He was the one for her and she'd meant those vows when she'd said them in church in front of all of their family and friends. Till death do us part was what she'd intended.
Eventually she opened her eyes. Her heart was thudding, her pulse surging in her ears. She'd have to get dressed and put her vibrator away.
Lucan was standing at the end of the bed, still staring at her with that open-mouthed expression of disbelief.
"Go," she said again, her voice shaky. "Get out, Lucan."
He shook his head. His attention went to the laptop.
"Lucan…" A full body tremble attacked her. "Leave."
"Who's there?" He nodded at the laptop.
"What?"
"Who is it? Who were you talking to?"
"I…no one."
He tossed his tie to the floor and folded his arms. "I'm not stupid, Polly. You were connecting with someone online. What is it? Facetime? Skype?"
"No." What was he talking about?
He reached for the laptop.
So did she. "Give it back."
They both had a hold of it. Her breasts jiggled as she  tugged.
"Polly." He glared at her. "Let me see. I need to know who you're cheating on me with."
"Cheating?"
"Yes. You're my wife," he spoke slowly and deliberately, "and if another man is seeing you…do this…seeing your…I need to know."
She'd never heard his voice so low and dangerous. Or seen his dark eyebrows pulled together that way. His jaw was set to steel and his usually smiling mouth a thin, pained line.
"I'm…I'm not cheating." She gripped the laptop harder. Maybe it would have been better if she was cheating. The thought of him seeing the porn movie she'd been watching was horrendous. He'd think her perverted and twisted.
"Don't lie to me."
"I'm not. I've never cheated on you. I never would." The pillow fell away completely.
His attention drifted over her naked body.
It was like a heated caress. When had he last seen her without clothes? She couldn't remember.
God, what had happened to them?
"So you'll show me then. If there's no one there. No one on the other side of the camera?"
"Camera? You really think I'd be filming myself do that?" She was shocked at the thought. The porn stars did it sure…but her? Little Polly Hartgrove from Amersham, office mouse, wouldn't say boo to a goose. "Of course there's no one there."
He gave an extra hard tug and she was forced to let go. He huffed, a small triumphant sound, and marched to the opposite side of the room. His shirt had come partly untucked and hung in a ruck over his neat navy suit trousers.
Polly raced after him, the air cool on her skin. But she didn't reach him fast enough and he'd flipped it open.
A wave of relief went through her as she looked over his shoulder. The password box sat safely in the center of the screen.
He stooped, fingers spread over the keyboard and typed.
A tinny ping reported he'd got it wrong.
He tried it again.
Polly's heart was racing, her breaths shallow. She wanted to grab her robe but was too caught up in the moment. She prayed he wouldn't guess her password was Tilly.
But of course he did.
The screen filled with the last shot Polly had seen. The actress' butthole filled with thick cock. Her fingers were in her pussy and the man gripped her hips. The sounds that suddenly rang around the room were horrific. Wails and cries, panting and gasping. Crude words and the wet, slapping noise of flesh on flesh.
Lucan straightened, his gaze glued on the screen.
Polly clasped her hand over her mouth to hold in a cry of mortification.
"You were…watching this?" he said, not looking at her.
She didn't think he needed an answer.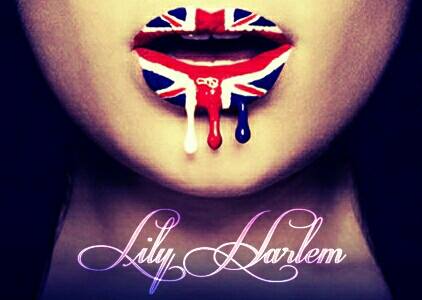 About Lily Harlem
Lily Harlem lives in the UK and is an award winning, bestselling author of erotic romance. After giving up a busy career in nursing she now spends her time enjoying her rescued pets and penning steamy stories. She writes for publishers on both sides of the Atlantic including, HarperCollins, Totally Bound, Pride, Evernight, All Romance eBooks and Stormy Night Publications. She also self-publishes novels that range from emotionally charged erotic romance, to steamy ménage a trois.
One thing you can be sure of, whatever book you pick up by Ms Harlem, in whichever pairing or genre, is it will be wildly romantic and down-and-dirty sexy so make sure you hang on tight for the ride! Subscribe to her newsletter to get a FREE ebook.
Links
Website http://www.lilyharlem.com/
Newsletter Subscription http://www.lilyharlem.com/newsletter.html
Blog http://www.lilyharlem.blogspot.com/
Twitter https://twitter.com/lily_harlem
Facebook https://www.facebook.com/lily.harlem
***
Happy reading,
Kay x