After a while away from the bookshelves, I'm delighted to announce that The Voyeur, is back, and will be available as an ebook from 1st April.
My darkest novel to date (although some who have read The Retreat may argue with that!), The Voyeur takes you in the fantasy world of Mr Mark Parker…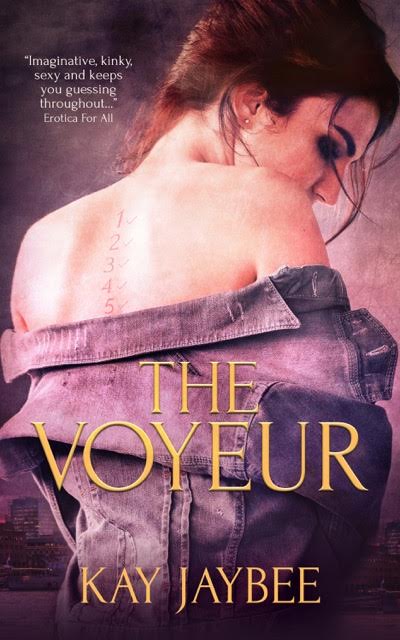 BLURB
Wealthy businessman and committed voyeur, Mark Parker, has a list of thirteen fantasies he is intent on turning into reality. Travelling between his London flat, his plush Oxfordshire mansion, and Discreet, his favourite S&M club; Mark is helped to realise his imaginatively dark erotic desires by two loyal members of his staff. His Personal Assistant, Anya Grant, and his Housekeeper, Clara Hooper.
Upon the backs of his willing slaves, Mark has written out his fantasy list in thick red pen. Only Fantasy 12 awaits the tick of completion against their flesh before Mark's ultimate fantasy – Fantasy 13 – can take place.
But have the girls performed well enough to succeed in the final challenge? And what hold does the Bridge's Gentleman's Club, Anya's previous employer, have over Mark? A place Anya was only too delighted to escape from.
In order to find out, Mark's girls are going to have to face some of the fantasies they thought they'd left behind them all over again; and while they do, Mark will watch…
Pre-order NOW  (Published 1st April 2021)
Amazon UK
Amazon US
Amazon AU
Amazon CA
Apple Books UK
Apple Books US
Barnes & Noble
Kobo
Smashwords
Here are few of the lovely things folk have said about this tale in the past…
"…The Voyeur is the pitch black to E.L. James' shades. A richly dark erotic thriller which keeps you gripped from it's sexually charged start and through it's twist and turns along the way. Kay Jaybee keeps you enthralled as the girls sexual challenges get packed with more eroticism the harder they get and make you start to question whether you want the girls to succeed or not – without knowing the full details and implications.
The Voyeur has you flirting between tension and pleasure until the final climax." Amazon UK
'…This is, simply put, Kay Jaybee's best work to date. It's imaginative, kinky, sexy and keeps you guessing throughout. So if you're looking for a well-written, BDSM packed novel with lots of straight and lesbian sex, then you should definitely check out The Voyeur.' Blog Critics 
'…A brilliantly creative plot, a wonderful imagination of ideas, relatable characters you feel you want to love and some you want to hate. After the last page I was happily satisfied, a brilliant ending…and no I'm not going to give it away, but you wont be disappointed…' Midnight Boudoir
'…The BDSM scenes in this story are blazing hot, one right after another.  One could pose that this is merely one long gratuitous sex scene from start to end.  This would be a wrong conclusion.  Ms. Jaybee starts out with a bang and then delivers a conspiracy which explains the entire story… Ms. Kaybee demonstrates her ability to turn up the heat while weaving a tale of intrigue..' BookAddict ~ La Crimson Femme'I like a book that starts out strong in the beginning.
'…Kay has created an intriguing book that defiles the ordinary sex book on the market. She has taken characters that are strong and turned them into a submission with loyalty for Mark … Be prepared to an interesting night with your partner while reading. Thanks for a great read Kay.' Bunny Review
'…What Kay Jaybee does with tremendous artistry is set the scene in her highly-charged novel in two swift paragraphs that made me feel as she had taken me to the edge of the diving board where I plunged nakedly into the whirlpool of Mark Parker's 12th fantasy..' Chloe Thurlow 
Happy reading,
Kay xx