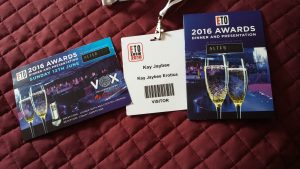 I don't think it's an exaggeration to say that the last two months have been some of the most bizarre of my life- certainly some of the most tiring – but most of all – the most rewarding. Whether I was being my mainstream alter ego, or Kay, it has been a Spring and a half.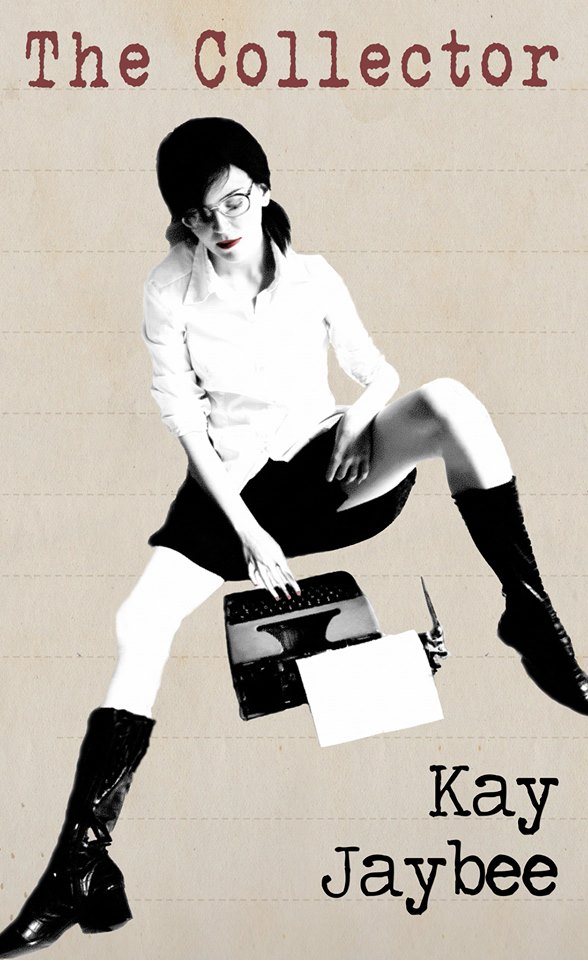 With the re-release of The Collector, the release of the final novel in Jenny Kane's Another Cup Of…series, co-running a 5 day Literary Festival, taking part in World Book Night events, selling books at the Hooded Man Event in Chepstow, and then attending a premiere in London with a famous person or two, then I think you will agree, life hasn't been dull.
To top off this incredible season of tours and words, I am freshly returned from this year's ETO show and awards ceremony. Joined by my fellow Brit Babe's, Kd Grace, Victoria Blisse, Lexie Bay and Tabitha Rayne – not to mention the lovely Kev Blisse – we set out to explore and party.
This year we were competing almost amongst ourselves for the Best Erotica Writer Award. With four BB'S in the running, alongside the lovely Emily Dubberly, we felt as if we'd won just by being there. As anyone who follows the Brit Babes will know, we act as a collective- all for one and all that- so any win for one, is a win for all- our aim being to improve the standard of erotica writing rather than personal kudos (although that is quite nice to!!!)
This 2016 ceremony was especially true for me this year as, although I won last year, I never got there- blog explaining all that can be found here.
As the assembled masses of writers, lube manufacturers, lingerie sellers, vibe designers, and more, settled down to a gorgeous meal, all bedecked in our frocks and heels, our combined nervous systems kicked in. We didn't care who won at our table- but we did want it to be a Brit Babe!
And…
Tabitha Rayne was the winner! I don't think we could have been prouder if we tried.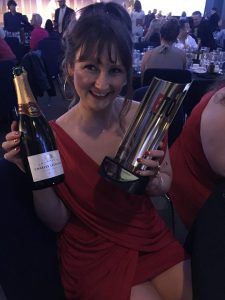 And because Tabitha is totally wonderful, she insisted we all go up with her to get the award- which was lovely for me after missing out last time.
Before we knew it- the awards were over and the dancing began. All I can say is that no one parties like a Brit Babe.  Seeing Tabitha and Lexie play air guitar is a sight to behold!
Time just slipped away. It was such a wonderful night with many worthy winners, including the fabulous Renee from Sh!, Rocks Off, Girl on the Net, and Lelo.
I can't tell you how grateful for the coffee machine in my room. It really kept me going the following day- it was a very late night.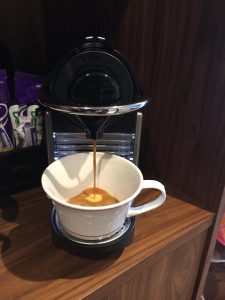 After regrouping for breakfast we hit the show itself, where I had a lovely time perusing the stands, chatting to the good folk from Kink Craft, and the equally smashing Voluptusee and Horny Geek Girl in the Blog Spot- who gave me some gorgeous goodies….
Before I knew it, it was time to get held up on delayed trains and weave my way back to the West Country…the only question that remains now is this…
Which Brit Babe will win next year?
Happy reading,
Kay x