Don't groan, but I'm going to mention the C-word. Sshhhh- Christmas– See, it's not so bad if you whisper it!
Why am I bringing up the subject in the first place prior to 1st November? (which marks, in my mind the day when "it's OK to talk about Christmas if you have to") Well- as followers of this blog will know- this year has been a bit thin on the ground when it comes to new KJB erotica.
I  wrote three new short stories for the wonderful Brit Babe anthology, Sexy Just Got Rich, back in February, and then I released The New Room, the follow up "finale" novella to The Perfect Submissive Trilogy back in March- but since then, not a smutty word has passed from my pen…until this month.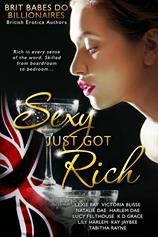 I have been massively busy writing straight romance (and gay romance) as Jenny Kane– but there is no way I could miss out on creating a kinky Christmas story. I have written one every year since I was first published, and have every intention of continuing to do so.
There is something special about a Christmas story, be it smutty or otherwise, and I just love writing them.
So, this year, with the help of the wonderful Lucy Felthouse, I am giving my festive story collection, Christmas Kink, a bit of a revamp. They'll be a gorgeous new cover, and more importantly- a brand new tale to add to the five already in place…
And so, over the past few weeks I've been thinking festive – wondering what seasonal happening I can twist into a toe curlingly sexy tale just for you. What could I possibly write about to add to a tale about a naughty fairy, a Christmas stable, cake mix, a little red dress, and a great deal of tinsel?
You'll find out soon…
Happy reading,
Kay xx