It's nearly Christmas!!! Yeah!!
So- got all those last minute presents yet?
Stocking nicely filled? No?
Here are few paperback suggestions to help add a sexy touch to those festive stockings…
Making Him Wait! My longest kinky novel to date- an erotic romance with plenty of plot twists.
Blurb
Maddie Templeton has always been an unconventional artist. Themes of submission and domination pulse through her erotic artwork, and she's happily explored these lustful themes both on and off the canvas. But, when Theo Hunter enters her life, she is presented with a new challenge. Maddie sets out to test his resolve as she teases, torments and toys with him. However, as Maddie drives Theo to breaking point, she soon becomes unsure whether her own resolve will hold out! At the same time, Maddie must put on the exhibition of a lifetime. As the hottest gallery in town clamours for her best work, Maddie pushes her models harder and higher until they are physically, sexually and emotionally exhausted. Will Maddie's models continue to submit to her, or will she push them too far? And will she be ready for the exhibition in time? The only way to find out is to wait and see…and the waiting only makes it sweeter!
Buy links– Amazon UK, Amazon US
***
Or maybe you'd like to pop The Collector in your loved one's stocking?
This is an ideal book for newcomers to the genre, as it has something for everyone, and can help you to discover which 'sort' of erotica floats your boat!!
Blurb
The Collector, defined now as a figure seen only in darker shades. There The Collector sits silently alone engrossed with her fanatic tales of lust, submission and dominance. Have you yourself already become engraved within her salacious list? From scribbles in her notebook, the true tale of The Collector can be neatly told through the fantasies and erotic adventures of others, after many years of being hidden by traditional society; so now is the time for the world's raunchiest diary to come to light. After The Collector appeases her appetite for instruction and voyeurism, she becomes hungry for more and shares her own provocative experiments thus endearing the sultry mind.
Buy links– Amazon UK, Amazon US
***
How about some full on, nothing held back, BDSM threesome romance and psychological mystery? The Voyeur!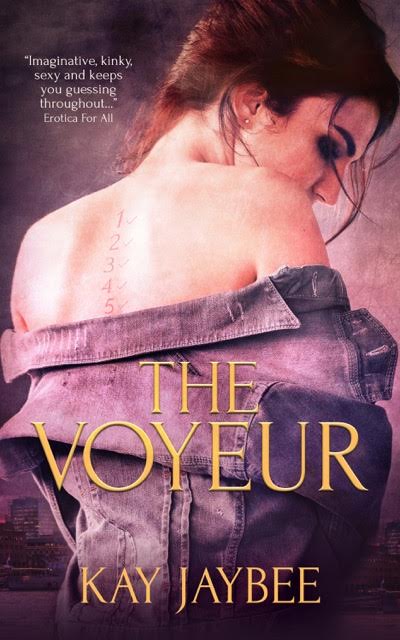 Blurb
Wealthy businessman and committed voyeur, Mark Parker, has a list of 13 fantasies he is intent on turning into reality. Travelling between his London flat, his plush Oxfordshire mansion, and Discreet, his favourite BDSM club; Mark is helped to realise his imaginatively dark erotic desires by two loyal members of his staff -his personal assistant, Anya Grant, and his housekeeper, Clara Hooper. Upon the backs of his willing slaves, Mark has written out his fantasy list in thick red pen. Only Fantasy 12 awaits the tick of completion against their flesh before Mark's ultimate fantasy – Fantasy 13 – can take place. But have the girls performed well enough to succeed in the final challenge? And what hold does Bridge's gentleman's club, Anya's previous employer and a place she was delighted to escape from, have over Mark? In order to find out, the girls are going to have to face some of the fantasies they thought they had left behind them all over again.
Buy links- Amazon UK,   Amazon US  Amazon AU  Amazon CA
***
Still not sure? How about the first book of The Perfect Submissive trilogy? The Fifth Floor.
Blurb
Hidden behind the respectable façade of the Fables Hotel in Oxfordshire, five specially adapted rooms await visitors to the fifth floor. Here, Mrs Peters is mistress of an adult entertainment facility pandering to the kinky requirements of its guests. When she meets Jess Sanders, she recognises the young woman's potential as a deliciously meek addition to her specialist staff. All it will take is a little education. Under the tutelage of dominatrix, Miss Sarah, Jess learns to cope with an erotically demanding training schedule and a truly sexy exercise regime. But will she come to terms with her new career? Meanwhile, Mrs Peters is temporarily distracted from her intimidating rule over Fables' fifth floor by artist, Sam Wheeler – who she believes can help her in her mission to transform Jess into the perfect submissive…
Buy Links – Amazon UK, Amazon.com
Hope these suggestions have helped you out a little with that last minute burst of shopping! Don't forget, all my books can be found here- BOOKS
Happy shopping!
Kay xx