To celebrate the launch of the second edition of The Voyeur this coming Friday, Sinful Press are giving you the chance to read the eBook version of my novel, Making Him Wait, for FREE, for the next 5 DAYS.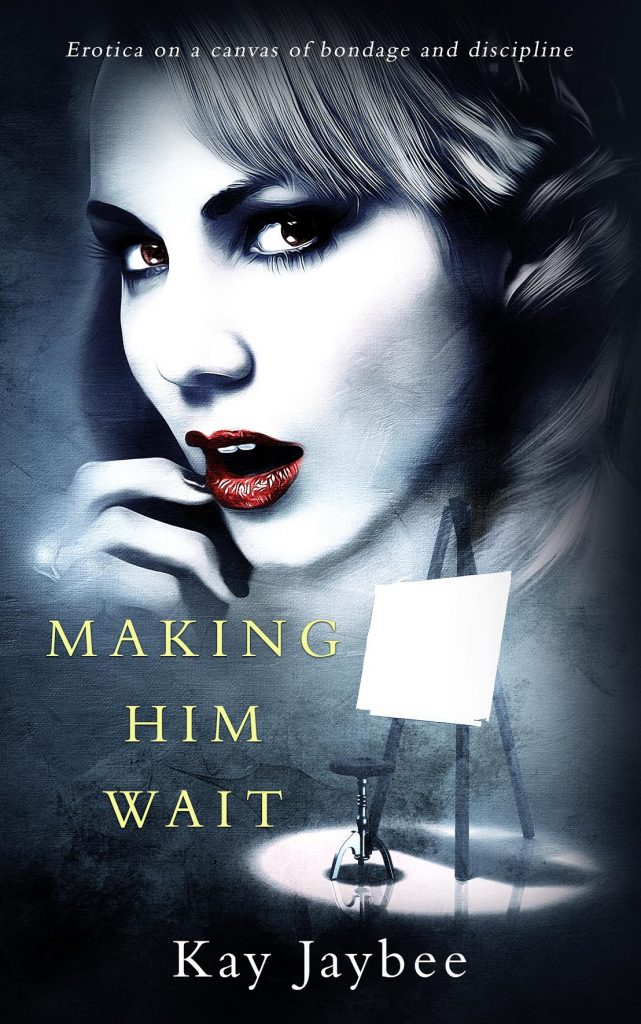 Blurb
Maddie Templeton has always been an unconventional artist. Themes of submission and domination pulse through her erotic artwork, and she's happily explored these lustful themes both on and off the canvas. But, when Theo Hunter enters her life, she is presented with a new challenge.
Maddie sets out to test his resolve as she teases, torments and toys with him. However, as Maddie drives Theo to breaking point, she soon becomes unsure whether her own resolve will hold out.
At the same time, Maddie must put on the exhibition of a lifetime. As the hottest gallery in town clamours for her best work, Maddie pushes her models harder and higher until they are physically, sexually and emotionally exhausted.
Will Maddie's models continue to submit to her, or will she push them too far? And will she be ready for the exhibition in time? The only way to find out is to wait and see…and the waiting only makes it sweeter!
As the blurb suggests, Maddie Templeton, self control freak, dominatrix, and professional sexual confidence booster, has been offered the chance of a lifetime. The opportunity to exhibit her work in a London gallery. There is only one problem; the only space the gallery can offer her means the art for exhibiting has to be gathered together in double-quick time- and that means calling in a lot of favours, and keeping the fascinating Theo Hunter at arm's length so Maddie can concentrate on her artwork.
Against her better judgement, and with time against her, Maddie finds herself asking for modelling help from her manipulative ex-girlfriend, Tania.
It isn't long however, before Tania's high handed manner gets too much, and Maddie decides to teach her a lesson- via her artist's trolley…and if she can use the situation to arouse make Theo's wait for her more interesting, then all the better…
…Taking a deep breath and with a bend of her knees, Tania jumped so that she was sitting on top of the trolley. Edging herself along in reverse, she positioned the small of her back in the very centre of cold metal tray. Slowly, so she didn't wedge her shoulders against the hand rails that ran along the long sides of the trolley, Tania lay so her legs hung over one end and her head and neck hung over the other, her loose hair sweeping the floor.
Forcing herself to relax as much as possible, Tania threaded her arms carefully through the side rails, letting them swing freely; trying not to think about how vulnerable she had allowed herself to become.
Secretly impressed at how easily Tania had got into position, and resisting the temptation to take a photograph for Theo there and then, Maddie gathered up some silk cord. Her face giving away nothing of her rising excitement, Maddie knelt by Tania's left side, picked up her wrist, bent her arm at the elbow and wrapped the cord in a figure of eight around her limb and around the nearest trolley leg.
Rather than get up and move, Maddie took hold of the trolley and wheeled it in a sharp circle, causing Tania to forget all about her promise to be quiet. She yelped in surprise, her stomach churning over and her hair dusting the floor like a brush.
Ignoring her ex's shocked protests, but noting mentally that she had now broken the no noise rule, Maddie tied Tania's right arm in place before twisting the trolley twice more and securing her ankles to the remaining metal legs in a similar fashion.
The moment she was satisfied that Tania was unable to undo her fastenings simply by tugging at them, Maddie picked up her mobile.
Theo had evidently become impatient again.
Inspired by a photograph I once saw of a woman shackled to a hostess trolley, I had a great deal of fun giving Tania a taste of her own medicine.
If you want to discover why Tania deserved such treatment in the first place and what happens next, then you can read Making Him Wait for FREE until midnight on THURSDAY 23rd AUGUST smarturl.it/MHWAmazon
Happy reading,
Kay xx