For the next 7 days my extra kinky erotic romance,
Not Her Type: Erotic Adventures With A Delivery Man,
is on special offer for only 99c/99p

via

 Kindle!!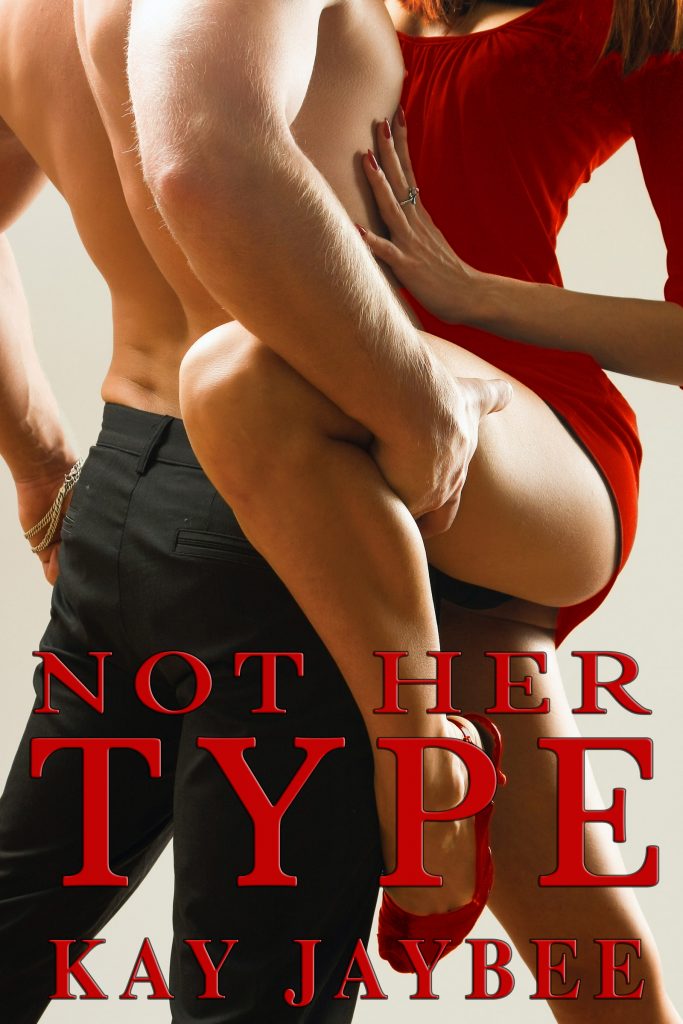 To celebrate I've decided to share with you something – Last week I was having a long overdue clear out of my writing cupboard, when I found the  notebook in which I first scribbled the idea for my naughty delivery man story. (Yes- I do have awful handwriting)
First seeing life as a serial called Going Against Type, and then as the novella, Not Her Type , this story was born after hearing many of the erotic (and often downright pornographic), fantasies and confessions from the delivery men who visit my home, delivering work related packages for my 'real' job.
Such is the nature of the courier's tight schedule, that any lust he or she might have the opportunity to release during the course of the day, will have to be very swiftly delivered indeed.
Blurb
When Jenny's regular delivery man, John, reveals that she has become the centre of his sexual dream world, Jenny's quiet existence is thrown into an arena of desire that she thought she'd long since abandoned.
One unexpected, head-swimming romp later, and Jenny is left wondering if her courier will ever visit her again – and if he does, will he mention the hot sex they had on her living room floor that Tuesday afternoon, or will he pretend it didn't happen?
When the following Tuesday arrives and John reappears on Jenny's doorstep, the scene is set for a continuation of intensely kinky weekly meetings. There's only one problem: John really, really isn't Jenny's type…
***
Jenny, the customer who becomes the centre of every sexual fantasy her courier, John has, discovers very early on that no matter how much she looks forward to her lusty encounters with her fuck-me handsome lover- it's rarely going to last more than five minutes!
Here's a mini taster for you – thankfully, not in my handwriting!
…Jenny had been ready for an hour. Dressed as per his request. Black jeans, black low-cut shirt, black bra, black knickers.
A rare text from John late the night before had warned her that even compared to normal, they wouldn't have long. But then, we never had long.
He was already speaking as he came into the house, his tone hectoring, "No time to explain. I have a stupidly large new van and company. A new assistant to train. He's practicing parking. We've got two minutes until he manages to get the truck into a space. Then he'll be knocking on the door."
Jenny's mouth opened to argue, to say that two minutes was impossible, but she didn't have the chance to say anything as she was driven to her knees with the order, "Suck my cock."
In the back of Jenny's mind, the countdown began….
***
If you are a connoisseur of the daytime quickie- then perhaps a courier is the man or woman for you…
Buy links… ONLY 99p/c as a KINDLE until 18th Jan
Amazon UK – http://www.amazon.co.uk/Not-Her-Type-Adventures-ebook/dp/B00C8PDEE4/ref=sr_1_1?ie=UTF8&qid=1365345730&sr=8-1&keywords=Not+Her+TYpe+kay+jaybee
Amazon.com – http://www.amazon.com/Not-Her-Type-Adventures-ebook/dp/B00C8PDEE4/ref=sr_1_1?ie=UTF8&qid=1365345892&sr=8-1&keywords=Not+Her+Type+kay+jaybee
Happy reading everyone!!
Kay xxx