Blurb:
Lee can hardly believe his ears when his girlfriend Jess rings him at work to tell him that she has just had sex with her masseuse Ali. When Jess goes on to tell him that Ali has agreed to help them live out Lee's ultimate fantasy – to watch his girlfriend with another woman – he is speechless. All they have to do in return is to help her carry out her own fantasy. So, if Lee wants to see Jess with a woman, he's going to have make space for them in the back of his van…
Available from (FREE to Kindle Unlimited members): Amazon UK | Amazon US
Reviews for After The Massage
"Ever wonder what's happening in those vans sitting in country lay-bys? Well then, you should definitely read this erotic quickie and find out! A quick, hot corker that will leave you wanting more…" Amazon US
"Hot Hot Hot – Holy s*** balls. If you are looking for a hot quick read, then look no further. This steamy read only takes about half an hour but trust me half an hour is enough.
Every mans and some women's fantasies come to life in this hot and erotic read. The heat flows off the pages and although it's a quickie (pun intended 😉 ) you get enthralled by the story and the couple. A hot quick must read." Amazon
"Absolutely fantastic short read! Very realistic and very sexy! Definitely recommend! Well written and erotic!" Amazon
---
Blurb:
She loves that no one but Connor really knows her. That she is just an ordinary middle class thirty-something woman in baggy jeans and a t-shirt, pushing her trolley around the supermarket like everyone else, sitting in her office typing up letters, cleaning the house, mowing the lawn… right up until she gets a call telling her it's time to be bad.
When Connor tells her how 'bad' he wants her to be that evening, she's filled with doubts – is she really up for letting him watch her have sex with another woman for the first time?
Who is she kidding? Of course she is! She is Connor's bad girl – and she knows it…
Available from (FREE to Kindle Unlimited members): Amazon UK | Amazon US
Reviews for Bad
"I read this short little teasing story on the bus. Loved it! Every sentence packs a punch. It's hot, raunchy, no detail is left out and it's expertly written so that the reader is both titillated and satisfied. Highly recommended for those moments when you just want a quick dip into erotic fiction…" Amazon
"…What a deliciously short read. I love Kay's short stories. My steam meter reached 4.5…." Amazon US
"It really is a quickie – didn't take long to read – but boy did it deliver!" Amazon US
"This may be a short read but it does not lack in hot, hot, hot scenes! Conner wants his Bad Girl to give something a try. She is amazing and there are a lot of steamy lines to imagine about. Loved it!" Amazon US
---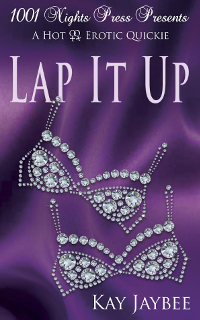 Blurb: 
Working late into the night, dedicated veterinary nurses Jo and Louise have made sure all the creatures in their care are safely bedded down for the night – and now it's time for a little puppy play of their own. Yielding to her girlfriend's delicious dominance, Louise is about to discover what life is like on the other end of a lead…
Available from (FREE to Kindle Unlimited members): Amazon UK | Amazon US
Reviews for Lap It Up
"…Kay brings to life a few new scenarios in the dominating world with this story. It only takes about 10 minutes to read so if you like a naughty F/F read than check this one out. It will be worth your time…" Amazon US
"…This is a quick but oh so hot story! You'll be wanting the reward as well! " Amazon US
"Quick read about a lesbian couple who are more than happy to add a little doggy fantasy to their bedroom. Well written and perfect to heat up a dull coffee break!" Amazon UK
"Whew!!! This short story is about a hot and exciting night between two veterinary nurses playing make believe. Oh My! Oh My! Oh My!! Both women are sexy and sensual and I am really I'm not sure which woman I envied more. Either way, it's time for a cold shower." Amazon UK
" A super sexy F/F short story. Jo has plans for her fellow veterinary nurse girlfriend Louise. Will Louise be a good girl and follow all of Jo's commands to get her treat at the end? Another great quickie from this wonderful author." Amazon UK