Today it's time for another in the 'My First Time' series- and I'm delighted to welcome Emmanuelle de Maupassant to my blog today for a cup of something and a chat!
Over to you Emmanuelle…
My First Time
Can you remember writing the first story you actually wanted to write, rather than those you were forced to write at school? What was it about?
About 11 years ago, I was living in one of the former Soviet states and began researching old, pagan superstitions and customs, including folk mythologies. I felt a compulsion to write my own tales using my findings: not retellings of existing Russian fairy tales, but something original, combining elements from various sources. These were early drafts of stories which now feature in my Cautionary Tales. They were more bawdy than erotic, and focused on the darker side of those old superstitions. It was a full decade before I returned to them in earnest and polished them, with the help of my editor (Adrea Kore).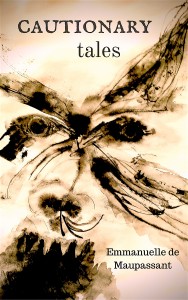 What was your first official publication? Was that erotica?
My first works in print were travel guides, commissioned for the Culture Smart! series and for Dorling Kindersley's Eyewitness series. Before that, I'd written travel articles for various journals including The Times.
I had no idea I'd be an erotica writer – it just came from nowhere! Was writing erotica something you intended to do, or was it a bit of a shock?
I was chatting with a friend and, somehow or other, we pretty much dared each other to write something 'naughty'. From there, 'The Gentlemen's Club' was born: a rather provocative tale set in 19th century London. I began writing without any clear plot direction, but guided by a definite desire to write about sexual obsession. My fingers almost had a life of their own and, one month later, my first draft was complete.
What affect did that have on your life?
I've never been happier. I have license to write into 'dangerous' places. There's no point hiding anything, or pretending.
Does your first published story reflect your current writing style?
My first novella is set in Victorian London, so I evoked 19th century language and a fair amount of historical detail. My latest release has a very different voice, using dark humour and elements of the grotesque. It's called Cautionary Tales and is a collection of macabre folktales tinged with erotic horror. I've blended eroticism with a sense of creeping dread for what lurks in the shadows.
What are you working on at the moment?
Volume Two in my Noire series, which is set in Italy, in 1899. Lashings of gothic mystery, a vile villain, a cunning seductress, and a host of eccentric characters. It should be ready for release by late summer.
Buy links-
 To my first published story: The Gentlemen's Club
and to my latest book: Cautionary Tales
Bio
Emmanuelle de Maupassant lives with her husband (maker of tea and fruit cake) and her hairy pudding terrier (connoisseur of squeaky toys and bacon treats).
 Other links – you can follow Emmanuelle at:
https://twitter.com/EmmanuelledeM
https://www.facebook.com/erotiquemuse
***
Many thanks hun- wonderful interview.
Kay xx