This week, I'm sharing an extract from the third novel in my 'The Perfect Submissive' trilogy – Knowing Her Place.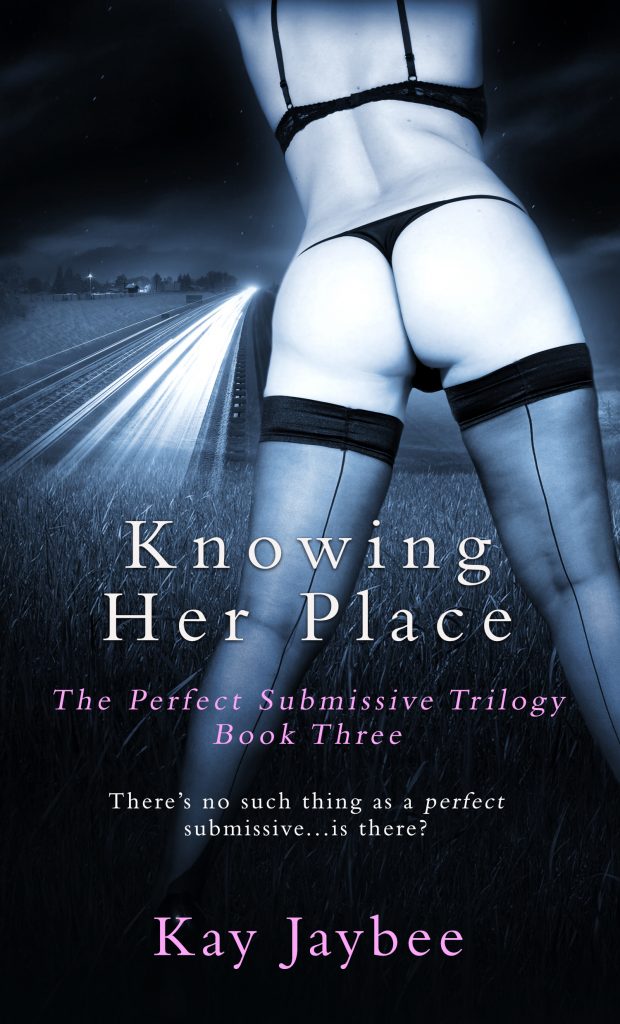 Blurb:
Full of unanswered questions after her erotic fairytale experience at The Retreat in Scotland, Jess Sanders is desperate to return to her submissive position at the exclusive Fables Hotel in Oxfordshire.
Having been thwarted in his plans to keep Jess, The Retreat's owner, David Proctor, isn't willing to let her go without sending the so-called 'perfect' submissive on one final mission. Only if Jess succeeds in the task he sets her, will Proctor remove the collar of servitude he has locked around her neck.
With a list of five unfamiliar addresses to hand, Jess is placed in a car and driven away from The Retreat towards England. With no idea of what, or who, awaits her at each location, all Jess can hope for is that the journey will eventually take her back to where she belongs.
To the fifth floor of the Fables Hotel, where Miss Jess Sanders truly knows her place.
***
Here's an extract from the very beginning of Chapter 1…
Miss Jess Sanders fingered the cream envelope she clutched between her fingers. The paper was damp, its previously crisp edges tattered and limp from where she'd been gripping it so tightly.
Her right hand came to her throat. Gingerly, Jess fingered the black leather collar that spanned her neck.
Every part of her ached.
Sitting in the rear of a very comfortable, chauffeur-driven BMW, Jess couldn't even face glancing out of the window. The journey from the North East of Scotland to wherever it was she was being taken in England seemed to be taking forever.
Only a few hours earlier, Jess had been working at The Retreat, providing submissive services at a business launch party, where 150 delegates from the Fairtasia adult comic production company had explored every inch of her body. Reclining against the leather seat, she closed her eyes. She could still feel the imprint of each hand, tongue, breast and cock that had come her way. Her stomach churned with nerves, anger, fatigue, and her body's treacherous and constant need for more sex.
Seven months ago, Jess had no idea she was a born submissive.
Six months ago, after becoming bored with a succession of temping jobs, she'd applied for the position of booking clerk at the Fables Hotel in Oxford, landed the post, and her life had changed beyond all recognition. From being a single girl, with a lacklustre sex life and no partner, Jess had become the resident submissive on Fables' fifth floor. A place which, under the iron management of the very dominant Mrs Peters, provided a special service for adults who wished for their ultimate sexual fantasies to come true without fear of judgement, and in perfect safety.
Initially Jess had been horrified at how well, and how quickly, she'd adapted to this new subservient lifestyle. A lifestyle Mrs Peters had spotted she was suited to long before Jess herself had any idea. But just as she'd settled into her new life and work regime at the hotel, Jess had found herself uprooted.
One of Fables' most demanding clients, Mr David Proctor, had persuaded Mrs Peters to lend him Jess, along with her dominatrix Miss Sarah, to help him and his manageress, Dr Ewen, set up his own Fables-style establishment in a remote part of Scotland – The Retreat.
Jess and Miss Sarah had been told they were being lent to Proctor to teach his staff the art of submissive behaviour. The reality of the situation, however, hadn't been quite so straightforward.
Running her little finger along the outer edge of the collar for a second time, Jess fought back the constant reflex to choke. It was so tight. There was no way it could be cut free without damaging her skin.
David Proctor had forced Jess into his collar, declaring her his property unless she proved herself worthy of release. He was the only one with a key to the little silver padlock that held it together at the front of her neck. Even if she did manage to prise the leather free somehow, as the car left the never-ending A9 that tracks the east side of Scotland and joined the motorway, Jess could hear Proctor's warning words echo in her ears when she'd threatened to call Mrs Peters …
"If you call her, that collar is never coming off. There is only one key and I have it. And before you think it can be cut off, it can't be done. Not without hurting you. Anyway, if you did get it cut off, you'd have failed, and part of you would always remain mine. I can't see Mrs Peters liking that very much; can you?"
Jess hated that he was right. Her boss wouldn't have liked it all. She tried to tell herself that Mrs Peters would come to her rescue – but she physically and mentally shrank back from wondering what the cost of making such a request of the Fables' mistress would be.
Unbidden, her mind slipped from thoughts of her boss to Miss Sarah. She tried to ignore the increase in her pulse rate, and the automatic swell of her breasts that the image of the tall, slim, demanding dominatrix always caused. For a split second, while they'd been together at The Retreat, Jess had begun to hope Miss Sarah cared for her a little beyond the requirements of work.
Jess knew, although she would never have been foolish enough to say so out loud, that she had formed a strong emotional attachment to the woman who dominated her body day after day in the pursuit of other people's pleasure. Sometimes she trusted that her personal feelings towards her mistress were genuine but, on other occasions, logical thought took over. She told herself, for the umpteenth time, as she looked out in the night, that she'd probably adopted some sort of warped Stockholm Syndrome feeling to Miss Sarah; like a victim falling for her kidnapper.
It had been Miss Sarah who Mrs Peters had ordered to train Jess when she'd first joined the team at Fables. A training which had included a vigorously kinky, and highly effective, exercise routine that gave Jess immense stamina, teaching her how to remain motionless for prolonged periods of time, and how to delay an orgasm for as long as humanly possible.
At first, Jess had been terrified of Miss Sarah. She'd suspected the dominatrix resented her arrival, especially when Mrs Peters began to refer to Jess as her "perfect submissive." This was a title Jess now understood had been designed precisely to provoke her, and force her to work even harder for fear of not living up to her requirements. It had nothing to do with Mrs Peters thinking Jess was good at her job –although Jess hoped she did.
But she sent you away … Jess shook her head sharply. Mrs Peters couldn't have known Proctor had planned to keep her all along. She couldn't possibly have been in on this from the start. Her boss had been conned by Proctor. They'd all been conned…

****
Knowing Her Place follows on from The Fifth Floor and The Retreat.
Available from:
Amazon UK
Amazon US
Amazon AU
Amazon CA
Barnes & Noble
iBooks UK
iBooks US
Smashwords
Happy weekend reading,
Kay x