This weekend why not spice up your personal seduction repertoire by telling your lover a story — a naughty story.
Pick a time when the two of you are alone, whether over dinner, driving in the car, or lying in bed together. Tell your partner a tale filled with all of the sexy things you want to do to him or her. Or make up a story about one of your favourite sex sessions you've shared with your lover. Or tell the steamy story of one of your hottest dreams. Whatever you choose, make you and your partner the subjects of the tale.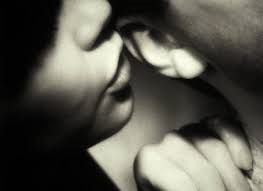 Here are some tips to telling a good sexy story:
If you're shy, turn the lights off and whisper the story into your lover's ear.
Use deliciously hot adjectives, especially when it comes to describing your lover's body.
Speak slowly. You don't want to rush the story, you want to let your lover savour the images you create.
Don't be afraid to sigh or moan as you narrate, which will add audial enhancement to your story.
Most of all – have fun!
Enjoy!!
Kay xx