In only one months time I will have been indulging in this writing lark for 12 years. I never dreamt I'd be around so long!
There are many advantages of being considered one of the "old school" – something that happens more and more these days, and seems to have a lot to do with the fact I was a pre- Fifty Shades erotica pedlar.
For me, it's a more relaxing affair writing erotica these days. It hit me the other day that my old manic need to have a new publication out every five minutes has gone. I suppose the need to prove myself has passed – although I am yet to reach the stage where I think what I write is any good! I never think that- and I can't imagine that I ever will.
I've also got used to being asked for all sorts of advice, from how to write, how to get published, and how to sell books once all the 'hard' work is done. It only seems a minute ago that I was the one too scared to ask for help- now I'm running erotica writing workshops! Only two weeks ago I was sat in the lovely Octavo Wine Bar and Bookshop near Cardiff Bay teaching the finer points of sexing up the ordinary within erotica.
It was tremendous fun, and I feel incredibly privileged to be able to chat to aspiring writers. Of course, it is also reassuring to know that erotica still has talented writers interested in joining its ranks – heartening after the past few years of poor quality material by half-heartened writers flooding the e-market in the hope of making a quick few quid.
I chose to think it's experience that has brought me this privilege rather than age!!
Having said that I'm more relaxed about this erotica lark these days, I should say that doesn't mean I don't get extremely over excited when I get a story accepted. When nice things happen I still feel the same sense adrenalin rush as I did when my first story was taken all those years ago.
This week for example, when the latest ETO Magazine came out, I discovered that my BDSM romantic trilogy, The Perfect Submissive Trilogy,  is currently Xcite Books best selling book! And for that matter, The Voyeur (my darker BDSM threesome novel) is at number 10 in the chart!! The smile on my face when I saw that was wide indeed.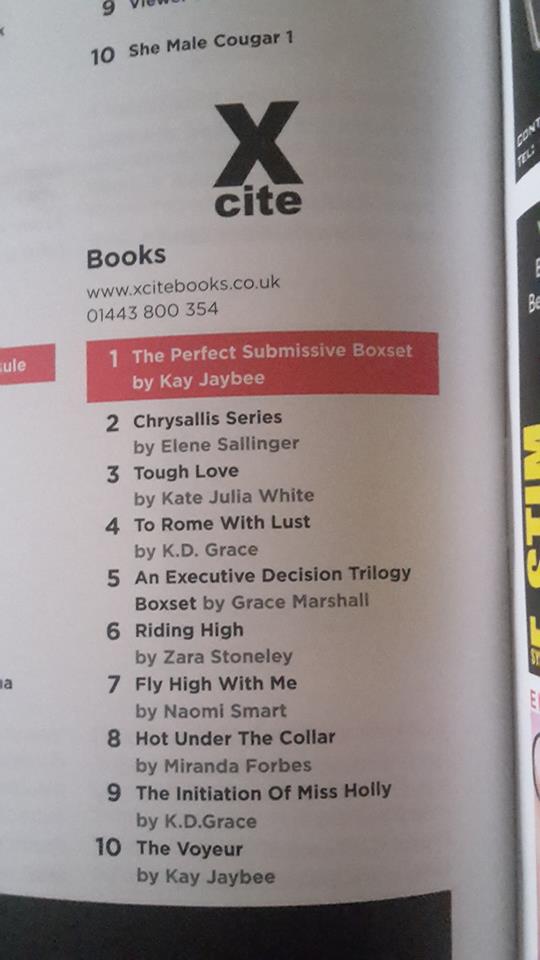 With more writing workshops lined up (Kd Grace and I will be teaching at Sh! Hoxton in September- details soon), a new book almost written, and new sex toys waiting to be tested (I get gifts sent to me all the time in the hope I'll review them- now that is a perk of being an 'established name'), my life in erotica continues a pace…and I still love every second of it.
Happy reading,
Kay xx