ON 1st FEBRUARY I'LL HAVE A NEW NOVELLA OUT IN E-BOOK LAND!
About time too you might say – and you'd be right. This story has been a long time coming…if you'll pardon the pun.
PRE-ORDER IS NOW AVAILABLE!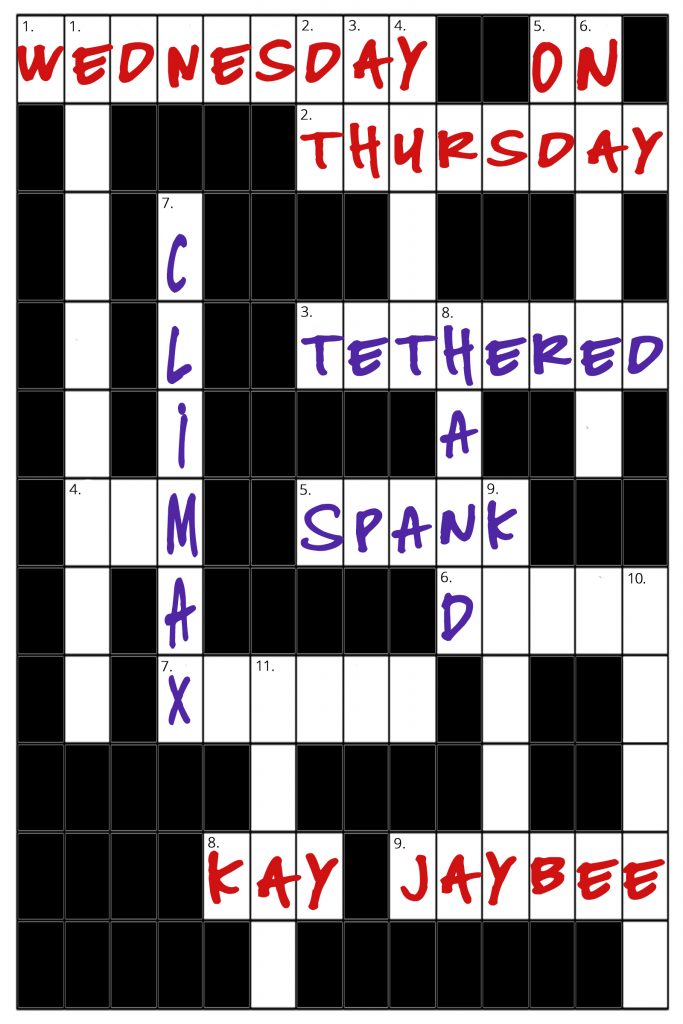 PRE- ORDER HERE-
https://www.amazon.co.uk/Wednesday-Thursday-Kay-Jaybee-ebook/dp/B01N5SOMT0/ref=sr_1_1?ie=UTF8&qid=1485329803&sr=8-1&keywords=Wednesday+on+Thursday+Kay+Jaybee
https://www.amazon.com/dp/B01N5SOMT0?ref_=pe_2427780_160035660
So, what's Wednesday on Thursday all about?
Here's comes the blurb!
Blurb
There are rumours that the coffee guy has "a thing" about words.
Shrugging off her friend's concern about the way the man in the café stares at her every lunch hour, Wednesday can't see how his love of words could possibly be hazardous.
The fact is, Wednesday rather enjoys being the centre of an attractive man's undivided attention. His dark blue eyes alone have provided her with many delicious erotic fantasies, a welcome distraction from the pressures of the real world and a dull job.
It's totally harmless…
…until there's an accident with a cup of coffee.
After soaking Wednesday with a hot latte, the coffee guy's attention suddenly becomes far more enticing—and dangerous.
Drawn into a bizarre world of human behavioural research, where crosswords are used to initiate sexual experiments, Wednesday finds herself driven, not by a desire to further scientific research, but by the need to be rewarded for her hard work by the coffee guy's captivating research assistant.
A stunning redhead by the name of Thursday…
Happy reading,
Kay x