"You can call me Sir." Something Brave Cover Reveal
Victoria Blisse's newest BDSM novella is available for Pre-order at Totally Bound now. It's the story of a shy vanilla woman and how she meets the only man she's ever wanted to submit to. Felicity discovers her kinky side with the help of a Man she only knows as 'Sir.'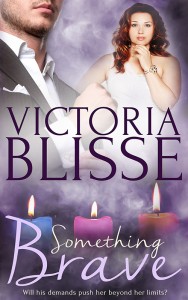 Blurb:
Blushing, hesitant Felicity does something incredibly brave and submits to a man she only knows as Sir, but will his demands push her beyond her limits?
Felicity attends the local burlesque fair just to sell her Quietly Cute jewellery. A handsome stranger offers to spank her, and she surprises herself by submitting. Sir makes her choose the implement he will use to take her spanking virginity—and uses it to great effect.
She finds herself becoming the sexy, self-made billionaire's sub, who is punished with bondage, forced into exhibitionism, hot wax and other delicious tortures. Felicity submits willingly, becoming braver with every interaction. But when Samuel offers her the means to establish her business and pulls her out of the poverty she lives in, she snaps, seeing it as an insult to her pride and possibly even a payment for her sexual services.
Can Samuel convince her otherwise, or will she walk out of his life forever?
General Release Date: 17th November 2015
Excerpt:
"Oh, I think of you all the time, Felicity. When I'm meant to be concentrating on the figures, one…" She felt an explosion of heat just above her belly button a second after he paused, and she gasped and pulled her stomach in.
"Two." Another drop landed a little higher, between her ribs, and she felt the two hot impact spots melting together into a river of warmth.
"Well, you get the idea."
She heard the mirth in his voice. He was enjoying watching her squirm. Another drop of wax splashed between her breasts. The impact burned, and she writhed against her bonds. It wasn't nice, it wasn't pleasant, but the warmth and the condensing pull of the cooling wax was strangely sensual. She wanted more as much as she wanted it to stop.
"I think of you over breakfast, whenever I see a pretty item of jewelery, when I look out of my office window, when I touch my desk. I see you there, stretched out and eager for your spanking. I think about you when I pick up my briefcase, when I loosen my tie. All the time, Felicity. You're always on my mind."
She heard a rasp, sensed movement beside her. Had he put the candle down?
"I get overwhelmed by thoughts of you all the time."
Another dribble landed at the top of her left breast and the drop turned into a stream that burned a trail down to just before her nipple. She clenched her teeth, expecting the burning to explode on her sensitive nub, but it didn't. She relaxed.
"Another confession, Felicity. When I think of you, I get turned on."
You can Pre-order Something Brave from Totally Bound now, Early download will be available on the 20th October exclusively at my publisher's site and general release is the 17th November.
Bio:
Victoria Blisse is a mother, wife, Christian, Manchester United fan and award winning erotica author. She is also the editor of several Bigger Briefs collections, and the co-editor of the fabulous Smut Alfresco, Smut in the City and Smut by the Sea Anthologies.
Victoria is also one of the brains behind the fabulous Smut events, days and nights dedicated to erotica, fun and prizes. Check out http://ilovesmut.uk for more details.
She is equally at home behind a laptop or a cooker and she loves to create stories, poems, cakes and biscuits that make people happy. She was born near Manchester, England and her northern English quirkiness shows through in all of her stories.
Passion, love and laughter fill her works, just as they fill her busy life.
You can find often find Victoria procrastinating on Facebook http://facebook.com/victoriablisse , Twitter http://twitter.com/victoriablisse and Pinterest http://pinterest.com/victoriablisse
To find out more check out http://victoriablisse.co.uk