I was recently asked by the smashing folk at the ETO Magazine to compile a list of what I considered to be,the best erotica paperback publications to pop into your lover's Christmas stocking.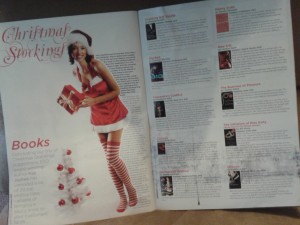 I can't even begin to tell you how difficult my task was. We all know how much awful erotica is out there, however, there is still a massive amount of brilliant material available. For me, good erotica has to conform to three rules.
Every book in my top 20 was –
Written well

Instantly captivating (if I am not engaged by the end of page one, I never turn to page two)

Doesn't patronise the reader by assuming low intelligence (I hate that!)
Obviously we all like different things from our literature, so there was no way I could  compile a list where every book would appeal to everyone. I did try and include something for every taste.
At first I was concerned that so many of my friend's books were included in the list, and that there was a danger I'd be accused of favouritism. All I can do is to reassure you this was not the case- and moreover- I am so grateful that I'm fortunate enough to call some of the very best erotic writers in the world my friends and colleagues. 
So- who did make the list? The full article can be found in this months ETO – but I can tell you that it included these novels, alongside 15 other hot reads…
Named and Shamed – Janine Ashbless
Big Bad – Sommer Marsden
Cassandra's Conflict – Fredrica Allyn
Control – Charlotte Stein
Undone – Kristina Lloyd
Why not check out the magazine to find out what the other top 5 novels were, along with my top 10 anthologies…http://www.erotictradeonly.com/
Of course, there was one disadvantage to writing this article- I couldn't possibly include my own work! It would have been horribly self serving and narcissistic! But a HUGE THANK YOU to all those people who told me Perfect Submissive should be on the list. You are all very kind. If you did want to have a peep at that trilogy, you can find it here! (Yes, I am cheeky!!)
Happy Christmas Shopping!
Kay xx