I love book release days!
Today I'm delighted to announce that A Kink a Day- Book One is out now!!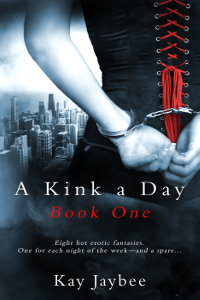 Blurb:
From the spank of a belt, to the unorthodox use of a dictionary; the bizarre obsession of an Egyptologist, to the afterhours indulgences of the staff recreating life in a strictly-run Victorian manor, A Kink a Day Book One provides a bite-sized moment of lust-fuelled distraction for each day of the week—with an additional erotic fantasy to enhance your Saturday morning lie-in.
Buy from:
Amazon UK
Amazon US
Amazon AU
Amazon CA
Barnes & Noble
iBooks UK
iBooks US
Kobo
Smashwords
***
Happy reading,
Kay xx