Hello everyone. I'm delighted to welcome my lovely friend, Kd Grace to my site today to give us a tasty taster from her brand new MM story, Toys for Boys!
 Over to you Kd…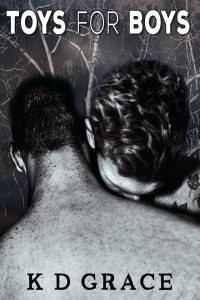 When my husband and I walked the Wainwright Coast to Coast Path across England, we took tons of photos, though there were a few days when the weather was the worst that the photos were sparse. On those days we were too tired and too wet to bother. Earlier that same year, we heard a talk from a man who climbed Everest for charity and somehow, even at the top, he had the presence of mind to record his epic moment on his device.
While I blogged that wonderful walk, taking photos as we went and then writing like a crazy woman in our B&B at night to get the posts out, I'd often wished I'd had the skill and the tech to do it all on my phone and in-situ as we moved across the landscape.
Having said that, one of the best parts of the walk was that it was mostly low tech – good walking gear and navigation skills and putting one foot in front of the other. That meant a feeling of accomplishment at the end of each day and it meant that we didn't miss the finer moments because our noses were buried in our iPhones.
Will and Doc's story is one of adventures with high tech while being very creative with low tech at the same time. That combo made for fun and sexy writing.
High tech meets low tech in a wilderness adventure that sizzles
 Toys for Boys Blurb:
Alpha nerd Will Charles teams up with Caridoc 'Doc' Jones in a coast to coast walk across England reviewing outdoor gift suggestions for the Christmas edition of Toys for Boys—an online magazine dedicated to the latest gadgets to tickle a man's fancy. Will is recording their adventures with the latest smart phone technology. Doc is reviewing the latest outdoor gear. The two quickly discover the great outdoors provides even better toys for boys, toys best shared al fresco, toys that, in spite of Will's great camera work, will never be reviewed in Toys for Boys.
Note: Toys for Boys has been previously published as part of the Brit Boys: With Toys boxed set.
 Buy Toys for Boys Here:
Toys for Boys – Hard Going — Excerpt:
After the traditional dipping of their boots in the Irish Sea and choosing a stone to toss into the North Sea at walk's end—all of which Will fucking Charles insisted on videoing, all of which Doc would have skipped in favour of a quick start, they were finally on their way. Doc was more than pleasantly surprised at Will's pace, long, sure strides in well-used walking boots convinced him that Will should take the lead. It didn't take him long to doubt the wisdom of that choice. The mist had closed in enough to limit the view over the red cliffs out to sea, but the view of Will's arse in the well-worn walking shorts only scant steps in front of Doc on a steep incline more than made up for it.
For an instant Doc fought an overwhelming urge to reach out and grab a handful. His cock twitched, his foot slipped, and suddenly the groping fantasy became a reality as his outstretched hand landed on a tightly contracted buttock in his flailing efforts to balance himself. A glancing touch became more of a grope just as Will lost his footing and slid back against him.
"Whoa, mate! You all right?" In a lightning-fast move, Will turned and grabbed Doc by the arm to keep him from going down. "Mud's a bitch," he said, then turned and walked on, leaving Doc breathless and on the verge of a stiffy, struggling not to contemplate the movement of muscle beneath thin shorts and the certainty that there was nothing beneath those but… well, muscle. Yup, no matter what the weather, this was going to be a very hard walk.
In spite of the late start they'd set a good pace, but as the day wore on, the rain worsened and an icy breeze blew in from the north. When Doc suggested they not stop for lunch, but press on to Ennerdale Bridge, Will had offered a nod and a smile. Then he reached into his jacket, pulled out two energy bars, handed one to Doc, and they slogged on. Two energy bars and an eternity later, the weather had worsened to the point that standing up was becoming a problem, let alone walking, and still they pressed on.
About K D Grace/Grace Marshall
Voted ETO Best Erotic Author of 2014, and a proud member of The Brit Babes, K D Grace believes Freud was right. In the end, it really IS all about sex, well sex and love. And nobody's happier about that than she is, otherwise, what would she write about?
When she's not writing, K D is veg gardening. When she's not gardening, she's walking. She walks her stories, and she's serious about it. She and her husband have walked Coast to Coast across England, along with several other long-distance routes. For her, inspiration is directly proportionate to how quickly she wears out a pair of walking boots. She loves mythology. She enjoys spending time in the gym – right now she's having a mad affair with a pair of kettle bells. She loves to read, watch birds and do anything that gets her outdoors.
KD has erotica published with Totally Bound, SourceBooks, Xcite Books, Harper Collins Mischief Books, Mammoth, Cleis Press, Black Lace, Sweetmeats Press and others.
K D's critically acclaimed erotic romance novels include, The Initiation of Ms Holly, Fulfilling the Contract, To Rome with Lust, and The Pet Shop. Her paranormal erotic novel, Body Temperature and Rising, the first book of her Lakeland Witches trilogy, was listed as honorable mention on Violet Blue's Top 12 Sex Books for 2011. Books two and three, Riding the Ether, and Elemental Fire, are now also available.
K D Grace also writes hot romance as Grace Marshall. An Executive Decision, Identity Crisis, The Exhibition, Interviewing Wade are all available.
Find K D Here:                                                                  
Websites: http://kdgrace.co.uk/
Facebook: http://www.facebook.com/KDGraceAuthor
Twitter: https://twitter.com/KD_Grace
***
Thanks KD!
Happy reading everyone,
Kay xx