About eight months ago I was sorting through a massive pile of short stories- all kinky, all homeless and all written by me.
It didn't take me long to decide what to do with them. Each tale has now been reedited and forms part of a brand new series of anthologies that I've called 'A Kink a Day.'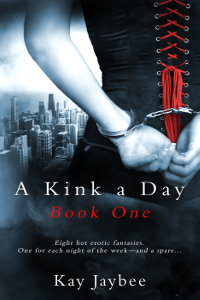 Blurb:
Eight hot erotic fantasies – one for each night of the week – and a spare…
From the spank of a belt, to the unorthodox use of a dictionary; the bizarre obsession of an Egyptologist, to the afterhours indulgences of the staff recreating life in a strictly-run Victorian manor, A Kink a Day Book One provides a bite-sized moment of lust-fuelled distraction for each day of the week—with an additional erotic fantasy to enhance your Saturday morning lie-in.
(A Kink a Day Book One contains stories previously published in Quick Kink One. )
The world around us is becoming more stressful by the day. What better way is there to ease away that stress than by reading a hot and sexy bedtime story? Unless it's reading it to a friend…
Coming 13th September 2018 – pre-order now:
Amazon UK
Amazon US
Amazon AU
Amazon CA
Barnes & Noble
iBooks UK
iBooks US
Kobo
Smashwords 
Books 2 and 3 will be released in October and November respectively!
So, if you like a quick sexy read once a day, then the 'A Kink a Day' collections are for you! From erotic romance, to fetish, to BDSM; there are stories for everyone.
Why not pre-order now to ensure your tablet, phone, or PC is loaded up with stories as soon as 'A Kink a Day – Book One' is published?
Happy reading,
Kay x