It had been way too long since I last took part in an erotica reading at the incredible Sh! Women's Store. It had been so long in fact that I wasn't sure anyone would come to the event Kd Grace and I held there this weekend.
Kay Jaybee has been keeping a low-ish profile over the past few months- and so I couldn't help wonder if anyone would turn up. If you detect hints of paranoia here, then you aren't far wrong. I can never get my head around the fact people want to take time out of their day to listen to me speak.
For a myriad of reasons I have felt rather disconnected from erotica in recent months. Many small things have happened to make me feel either unwanted within the kinky arena, or so far away from the style of writing that is currently popular, that I'm just not worthwhile as a writer anymore. I must stress that I DON'T say this in a bid for sympathy, but so you can understand that coming to Sh! this weekend was such a big deal for me. I was concerned that my inner Kay has been so squashed by reality, that she had left me.
I was thrilled therefore, when Renee told Kd Grace and myself that the event was sold out! A boost to the ego I can tell you!!
As I donned my Kay attire and headed to the shop with Kd, I was relieved to feel Kay coming back to me.
Greeted by the ever fantastic Renee, manager of Sh!, and her assistant, Alice, we were immediately surrounded by a crowd of enthusiastic  guests. I was delighted to meet the gorgeous Candy Snatch for the first time,  and catch up with Molly Moore and Michael Knight, Suzanne Portnoy, Meg Philips, Modesty Ablaze and her husband, Jane Fae, and Zak Jane Keir. It was also fabulous to see so many newcomers to the Sh! event scene. I hope we didn't scare them too much! x
The evening began with Kd kicking off things with a reading from Toys for Boys and then I followed with a sexy snippet from The Perfect Submissive. After that we had some questions from the audience; some funny, some serious, but all interesting, and in some cases, challenging. I then dipped into a reading from my latest novella, Wednesday on Thursday. Kd followed with a piece from The Tutor.
The Tutor was written as a direct result of a writing masterclass I taught in Manchester almost two years ago. So we thought it would be fun to get the audience to have a go at a mini version of that workshop. Every member of the audience had 2 minutes to invent a kinky use for an item you'd find in a supermarket- they didn't know what this item was going to be until they pulled an object card from my 'Supermarket list' bag!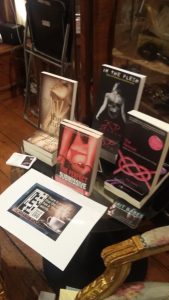 Much laughter ensued as sexy uses for ice cream cones, greetings cards, and icing sugar were invented.
After a browse around the shop (so much I wanted to buy!) and a top of champagne and cupcakes, it was time for a few more readings and some more questions from the wonderful audience, before we round up the event- an hour later than planned due to everyone having so much fun!!
Then it was off to a local restaurant with Renee, Jane Fae, Kd and her lovely husband Raymond, for more laughter, great food, and great chatter.
In short – Sh!, the fabulous Kd Grace, and the fantastic folk of London who turned out to see us, showed me that Kay is still there. She may be a little quieter than usual, but you'd better watch out… because she has a lot of ideas that need turning into very wicked words…
Kay xx